That is the question.
Spray paint is great because it goes on quickly and is easy to use! I find that it typically does not chip easily, likely because the many thin coats of paint slowly build instead of putting two thickish coats of regular paint on. Due to this same reason, often I do not even sand before applying it, which is another time saver. Its perfect for the slightly impatient, time inhibited person. But it does not work for every project.
This post may contain affiliate links. If you have any questions, please see my disclaimer page.
BASIC TIPS ON SPRAY PAINTING
Shake the can really well prior to starting. They typically recommend shaking it for one full minute after the ball inside starts to rattle.
Prior to starting to spray your piece, it can be helpful to spray a test spot on something else so you get a feel for how the paint is going to come out. I typically spray a little on the cardboard I am using to cover the ground before starting. Which brings me to my next tip…
Cover the ground where you're planning on spraying the object. Even though the grass will grow out and the painted tips will be cut, you will have a hard time spraying the bottom of the piece with all of the grass blades coming up around it.
Elevate the project. Many things can be elevated by nailing a nail or two on the bottom. (PIC)
Spray paint outside. Do NOT spray paint in your basement if you are at all worried about fumes. Maybe this is common sense, but I was shocked at how pervasive and lasting the fumes were when I did a quick spray job in my basement in the dead of winter (oops…).
Spray thin coats with long sweeping motions while holding the can the recommended distance away from the item (it will say how far on the can). Typically this is about 10-16 inches.
Frequently shake the can while spraying to ensure that the paint inside stays mixed.
Wait several minutes, and then apply a second thin coat. I always wait until the first coat feels dry to the touch. Make sure to check several areas, as sometimes the paint and pool more in some places.
Wait again, and spray subsequent thin coats as needed until the entire piece is covered.
That's it! Of course you may end up needing to sand lightly between coats if you are spraying wood and the grain becomes raised, but this does not always happen.
Here is a handy guide on whether you should use spray paint to paint a piece of furniture or decor, or whether you should use a good ol' paint brush. Another lesson learned through trial and error!
TO SPRAY
A piece with spindles – have you ever tried to paint a spindled chair with a brush? Its not easy, and and takes forever. Spray that chair!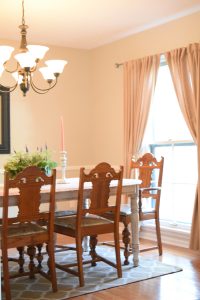 Decor items – lamps, candlestick holders, picture frames, etc., are all great items to use spray paint on.
Light fixtures – Have an outdated chandelier? Spray it!
Furniture with ornate carvings – Often this is easier to spray paint since you do not have to worry about getting the brush into each crevice. While this does not fall into the definite spray it category, its something to consider.
Knobs, pulls and hinges – Spray them! Stick the screws for them through a piece of cardboard so they stand up and get spraying.
Anything that you just cannot wait to have completed – Spray it!
My favorite spray paint is Rustoleum Antique White. Such a soft, perfect, matte white for any piece!
NOT TO SPRAY
Do you want a special color? Paint with a brush! While spray paint now comes in a lot of nice colors, if you want a specific shade, you will likely be better off heading to the paint store to get a can of paint in exactly the hue you want.
Is it a large piece? Paint it with a brush! Spray paint is much more expensive when you consider how much is needed to cover a piece.
Does it have to be completed inside? Paint it with a brush! The fumes are much less with regular paint, and you do not have to worry about overspray getting everywhere.
Thats about it! Now get out there and start making your own quick transformations!