How to Whitewash a Fireplace
When I moved into my home, the fireplace looked like this.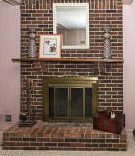 So dark, right?
It made the whole room look dark.
After looking into my options, I decided that whitewashing would be the easiest and cheapest way to change the look of it.
This post may contain affiliate links. If you have any questions, please see my disclaimer page.
It was also the scariest!
What if I messed it up? What if I hated it? After putting paint on brick, there is no easy way to turn back.
But, as they say, no risk no reward. So I got down to business.
I thought that whitewashing the brick may turn out to be a pretty messy job, and I was right.
Luckily, we were replacing the carpet in the home anyways and had already torn it out. I think it would have been really hard to cover enough of the floor surface to make sure that no paint got on it.
With the floor being down to just subfloor, my prep work was pretty minimal. I removed the fireplace screen and the mantle.
Then, I found a can of white paint in my basement and started to thin it out. Because I wanted a really soft white wash with some of the brick color showing through, I ended up with about a 1 part paint:4 parts water ratio.
This stuff was liquidy.
I enlisted my husband's help with this project because I wanted to make sure that he was part of the ruining process if that was how this thing ended up (then he couldn't blame me!). Also, I knew that I did not want the paint to sit on the brick for very long before wiping it. So I truly did need his help.
So here is how we whitewashed the fireplace.
I painted the paint/water mixture on, and as soon as I picked the paint brush up off of the brick, my husband wiped the brick with a towel. He wiped it so fast after I painted it that half of the time he was hitting my hand out of the way.
This was critical to get the look that we wanted.
I made sure to run the paint brush along all of the mortar because I wanted that to come out nice and white.
In all honesty, paint got everywhere!
I had an old couch sitting about four feet behind us and it was splattered with little tiny flecks of paint water that never came off. The paint got all over the subfloor just from running down the brick. So take note, if you are planning to white wash your fireplace and have a floor that you want to keep nice, cover it REALLY well with something waterproof like plastic and tape it down. Cover everything nearby that you do not want paint on.
I LOVE how it turned out.
It brightened up the room, and really became such a beautiful focal point.
What do you think?