If you have a sourdough starter, you understand the need (and desire!) to use it in creative ways.
When we first started making sourdough bread, we tried putting sourdough in all sorts of things without a recipe to use up the excess starter. While it was frugal, it didn't necessarily always taste good!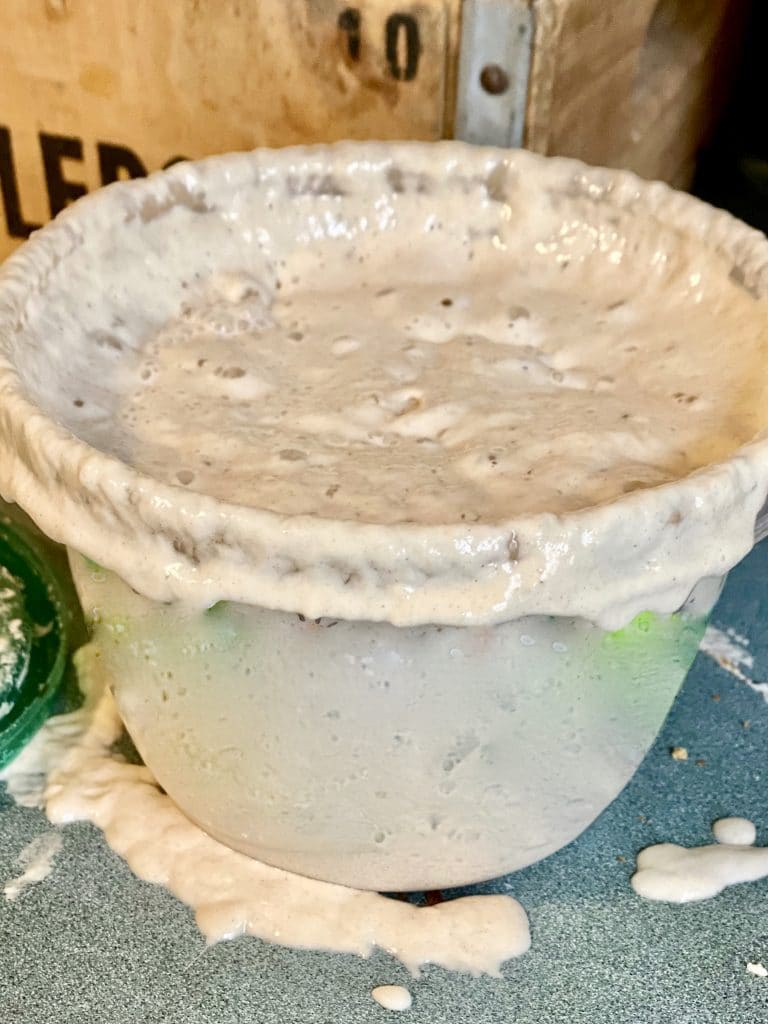 Since then, we've gotten a little better at it. It takes some practice, and trying out different recipes that were made for sourdough is a great way to learn how to incorporate it into your own creations.
While cooking is an art, baking tends to be more science based. By this, I mean that ingredients have to be added in specific proportions, otherwise the recipe doesn't turn out correctly. Trying your hand at several of these excess sourdough recipes will begin to help you understand the formula for adding sourdough to your eats so you can try it out on your own sometime if you like.
I have put together the ultimate list of leftover sourdough starter recipes, which is full of amazing recipes to use up that starter! It includes everything from sweet to savory, so try out some of your favorite treats with a sourdough twist!
This post may contain affiliate links. If you have any questions, please see my disclaimer page.
First and foremost, check out my favorite sourdough bread recipe!
It is the BEST bread – all of our friends beg us to make it for them! The recipe also has a link to how to make a sourdough bread starter!
This recipe tends to make a super crunchy, hard crust.
It is cooked in a dutch oven, with the lid on, at a very high temperature. While it tastes amazing, it can tend to be too hard for some to bite through. Plus, we often use an electric knife to cut through it!
But don't let that stop you. If you try it out and it is too hard, try baking the loaf at a lower temp (such as 375) and in a regular bread pan for a softer crust.
(If you don't have a sourdough starter, click here for an easy, no yeast, recipe.)
This dutch oven is essential for making an amazing sourdough loaf with this recipe. The crust gets hard – just like a bakery loaf. If you don't have one, pick one up!
And… how great is this set of bread making accessories?!? It comes with a proofing basket, a bowl scraper, a linen liner, and 10 adorable bread stencils. LOVE it!
If you're totally set in the bread department, here is my ultimate list of leftover sourdough starter recipes!
There are so many amazing ways to use up that excess sourdough starter!
Adding sourdough starter gives your favorite recipes a rich complexity that you may not find in normal, white flour based recipes.
Morning Recipes
Blueberry Sourdough Muffins – Turnips 2 Tangerines
Morning Glory Sourdough Muffins – A Better Way To Thrive
Whole Wheat Sourdough Apple Cinnamon Muffins – Tasty Kitchen
Quick Oatmeal Chocolate Chip Sourdough Muffins – Cooking with Carlee
This is one of my favorite muffin recipes!!
Sourdough Spice Cake – Traditional Cooking School
Dangerously Addicting Sourdough Cinnamon Rolls – A Chick and Her Garden
Sourdough (raised) Doughnuts – cdkitchen
Sourdough Hot Cross Buns – Nourishing Joy
Sourdough Bagels – Full of Days
Sourdough English Muffins – A Chick and Her Garden
Perfect Sourdough Pancakes – Joy To My Heart
Sourdough Banana Pancakes – The Dutch Baker's Daughter
Whole Grain Sourdough Waffles – Traditional Cooking School
Sourdough Coffee Cake – Turnips 2 Tangerines
Sourdough Cinnamon-Pecan Coffee Cake – Cultures For Health
Blueberry Sourdough Scones – Wild Yeast
Sourdough (cake) Donuts – Baking Sense
Sweet Bread Recipes
Stollen (German Sweet Bread) – Pizza Rossa
Sourdough Pumpkin Chocolate Chip Bread – What's Cooking America
Sourdough Banana Bread – Pinch My Salt
Cranberry Orange White Chocolate Loaf – Korena In The Kitchen
French Chocolate Bread – Chocolate & Zucchini
Chocolate Cherry Sourdough Bread – NY Times Cooking
Cinnamon Raisin Sourdough Bread – Butter For All
Sourdough Swedish Cinnamon and Cardamon Buns – Milk and Honey
Dessert Recipes
Sourdough Brownies – Common Sense Home
Sourdough Sugar Cookies – What's Cooking America
Sourdough Cookies (can add chocolate chips!) – Common Sense Home
Sourdough Snickerdoodle Cookies – Cultured Food Life
Chocolate Sourdough Cake – The Nourishing Gourmet
Sourdough Crepes – Homesteading on Grace
Sourdough Carrot Cake – Nourishing Joy
Pick up this huge glass flour canister to store your flour in!
Savory and Bread Recipes
Sourdough Crackers – Sourdough and Olives
Spelty Sourdough Crackers – The Bojon Gourmet
Sourdough Focaccia – Flour On My Face
Oatmeal Honey Sourdough Bread – Home Joys
Sourdough Tortillas – Reformation Homestead
Sourdough Cornbread – Tasty Kitchen
Sourdough Pasta – Korena in the Kitchen
Sourdough Pie Crust – Cultures for Health
Sourdough Pizza Crust – Butter For All
Sourdough Irish Soda Bread – Turnips 2 Tangerines
Sourdough Ciabatta Bread – What's Cooking America
Sourdough Naan Bread – Grow Forage Cook Ferment
Russian Rye Bread – Mother Earth News
Buttery Sourdough Biscuits – Joy To My Heart
Einkorn Sourdough Sandwich Bread – Beets and Bones
Whole Wheat Sourdough Bread – Joybilee Farm
Need some extra storage space for all of your baking supplies?
Check out
how to make your own pantry in a weekend!
Final Thoughts on Excess Sourdough Recipes
One of the reasons that sourdough bread is so great is that it is more nutritious than normal white bread. This nutritional benefit can extend to these recipes too.
For example, while chocolate chip muffins taste great, adding oatmeal and sourdough starter to the recipe gives it a little nutritional boost (and that makes me feel better about eating them for breakfast!).
Some of sourdough's amazing health benefits are:
Sourdough is full of vitamins and minerals that regular bread doesn't have (unless it is enriched). Sourdough contains iron, selenium, zinc, magnesium, folic acid and B vitamins!
Sourdough has prebiotics and probiotics – meaning it increases your gut health. There is a big push in dietetics for foods that are good for your gut, such as yogurts, keifer and sauerkraut. This is because they increase the good bacteria in your digestive system. Check out how to make your own yogurt, how to make greek yogurt, and how to make sauerkraut for more gut healthy recipes!
Sourdough has protein in it.
So, if you haven't started making sourdough yet, get started! And if you are well versed in making sourdough bread, give some of these recipes a try!
What recipes did I miss in my ultimate list of leftover sourdough starter recipes? Share your favorites in the comments below!
Remember to pin this post for later!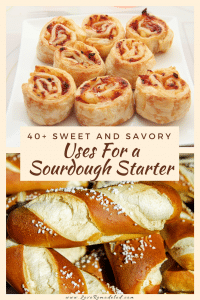 Leftover Sourdough Starter Recipes: The Ultimate List