Easy, Inexpensive Ways to Get a Country Farmhouse Kitchen in Any House
Nothing is more in style right now than a country farmhouse kitchen! The subway tile, the hint of metal, the touch of greenery – its just gorgeous! While it is the most coveted design right now, it isn't always in the budget to completely remodel your kitchen. With this in mind, I've put together a list of cheap and easy ways to make any kitchen have a more farmhouse feel.
But first, check out this eye-candy of some of my favorite country farmhouse kitchens!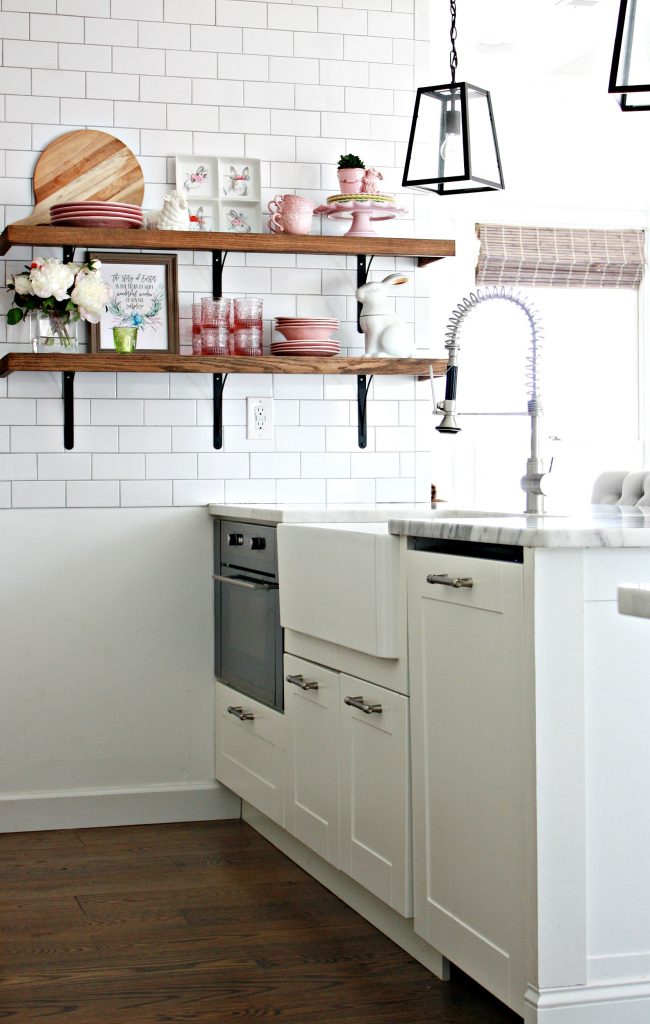 See the gorgeous shelves, the hint of wood, the subway tile, and the splash of one color? This kitchen from Nest of Posies is a perfect example of a beautifully arranged country farmhouse kitchen.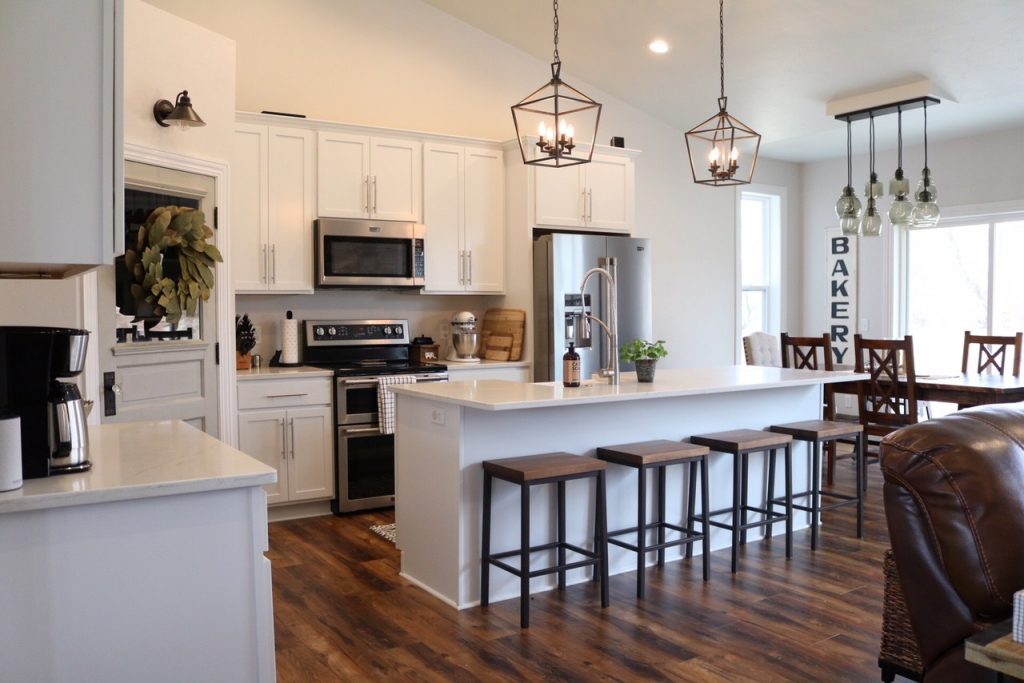 Here is another great example from Sugar Maple Notes. I love the touch of greenery with the wreath, and the hint of industrial style that the metal provides.
What if you don't have an all white kitchen? I'm glad you asked!
This Old House featured a kitchen with wood cabinets. The pulls on the drawers, the white dishes and the farmhouse faucet give it just the right look!
If you have dark cabinets, I do find that having some painted wood in the room helps though. When I updated my kitchen, I painted the island white and restained my cabinets to a darker wood color. Both projects took were SUPER inexpensive and only took me a few days to complete.
So, now that we know what we want, how do we get it?
Here are my cheap and easy ways to get a country farmhouse kitchen look in any house.
This post may contain affiliate links. If you have any questions, please see my disclaimer page.
Change the lights.

Don't let this intimidate you. Changing out a light fixture really isn't hard. Check out a few YouTube videos, TURN YOUR BREAKER OFF, and get to work (as a word of caution though, electric work is dangerous, so please do study up on how to do it before you start)! It takes just a few minutes and really changes the look of the room. Since lights can be really expensive, I picked out some highly rated, reasonably priced options for you to check out!
Add open shelving.
Open shelving is perfectly farmhouse! Stack your all white dishes on it, or use it as a display for some of your favorite farmhouse decor. Speaking of white dishes…
Get some white dishes.
Whites dishes will never go out of style! You can change out your kitchen colors with table runners, placemats, and throw towels, but your white dishes will always match!
Decoratively place farmhouse style decor on your shelves and counters.
I love that farmhouse style can be gorgeous, and sometimes even functional! Keeping your most frequently used cooking utensils on the counter is an easy way to decorate and free up drawer space. The two tiered shelf can hold your salt and pepper shakers, your sugar crock, or anything else you like. And see that milk jar? Its also measuring cups. So cute and useful!
Change your faucet.

Even it its not in the budget to put a farmhouse sink in, changing the faucet will really update the look of your kitchen sink. The middle one is actually the one that we own. We love it! Its super solid feeling and so practical!
Add a cream or tan colored rug under your kitchen table.
Moms, I know what you're thinking. I must be crazy to suggest a cream colored rug under your kitchen table. But hear me out! This cream rug is, first, GORGEOUS! We all need a little bit of gorgeous in our lives. Second, it is HIGHLY RATED! This means that its not likely to fall apart within a few weeks of owning it, or pill up like some rugs do. Third, it is INEXPENSIVE as far as rugs go. This means that when it does finally get ruined, you won't feel nearly as bad as you would of had it been expensive. And last, there are actually a lot of different colors in this rug. See how it isn't a solid cream? It has strands of darker beige, blue, and brown, that will mask a lot of those food spills. I've had a cream colored rug under my kitchen table for almost two years (and I have three kids under 5!), and I'm just now thinking that its time to replace it. With this one!
Change the knobs and pulls on your cabinets.
I'm convinced you won't find better quality or cheaper pulls than these ones. I added that last ones to my kitchen when I updated it, and I love them!
Throw in some greenery.
Adding a wreath to your pantry door, kitchen cabinets, or just on the wall in a tobacco basket really gives you home a country farmhouse feel.
Stick on a subway tile backsplash.

You don't need to get out the mortar for this either. These peel and stick options are a simple way to add farmhouse charm to your walls. You literally just peel them off the paper, and stick them to your wall. DONE!
Hang some farmhouse decor on your walls.
There is so much great farmhouse decor to be found! Whether you're a DIYer, an antique store frequenter, or just an Amazon shopper, you can get really cute, and even practical, farmhouse decor to give your kitchen that look you want!
Get industrial style barstools.
Changing your barstools is an easy little way to change the style of your kitchen.
So there you have it!
There are so many easy ways to get a country farmhouse kitchen on the cheap!
If you're still wondering how to get kitchen the country farmhouse kitchen, and you're a little bit handy, check out my post on how we made a wood vanity top. It may give you some inspiration on making a wood island top (or even have you making countertops for your whole kitchen!).
Or, learn how to reface your cabinet doors and drawers into a Shaker style cabinet.
Oh, and if you love everything Fixer Upper, you may be thinking about putting in a shiplap wall. If you are, read what you should know before you start!
Pin this post for later so you remember all your favorite ideas!