In addition to choosing the right paint color for your living room, you also need to make sure you choose the right paint finish.
Paint finishes come in a variety of different options, and the type of finish you choose will impact how the walls look as well as how long the paint lasts in the living room.
Paint finishes vary greatly, and you need to consider both your preference on how paint sheens look and how much traffic your living room receives before you make a decision.
Keep reading to learn what paint finish will be best for your living room.
This post may contain affiliate links. If you have any questions, please see my disclaimer page.
Best Paint Sheens for a Living Room
Let's discuss all the different sheen levels of paints to help you decide which you should choose for your living room.
High-Gloss Paint
High gloss paint is the shiniest and most reflective paint that you can get. It isn't great everywhere, but it definitely has its place on the right surface.
This is because high gloss finishes are extremely durable. They cure to a hard, strong finish that allows you to wash them easily without ruining the paint job.
Despite being super functional, many people don't like high gloss finishes for walls. They tend to look just too shiny.
In addition, high gloss finishes will highlight any imperfections that you may have in the wall. So, glossy sheens should really only be reserved for smooth surfaces.
Glossy paints won't work on textured walls, unless you want to see every bit of texture.
Mostly, high gloss sheens are best for woodwork, doors and trim. I don't recommend them for living rooms unless you have wainscotting or built-ins that you want to highlight.
I couldn't find a good picture of glossy paint in a living room, because people really don't use it unless they are going for a really glam look.
But here, you can see how high-gloss paint looks on a ceiling and that will give you an idea of how it will look on living room walls.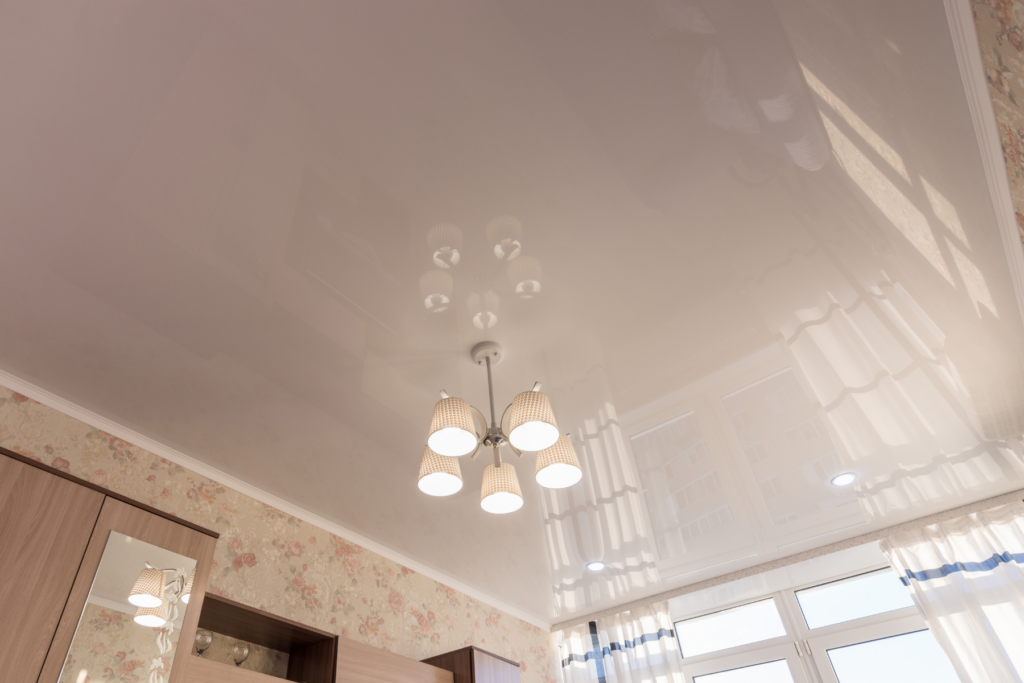 Semi-Gloss Paint
A semi-gloss sheen is a step down in reflectiveness from a high gloss paint. Semi-gloss paints have a good bit of shininess to them, but are more tolerable for most people than high-gloss paints.
Semi-gloss paint is commonly used on woodwork in homes, due to its durability. Like high-gloss sheens, a semi-gloss finish will cure harder than lower sheens will, and this makes them more durable and washable.
Also, like glossy finishes, semi-gloss paint is going to highlight surface imperfections more than a lower sheen will. They are a good choice in high-traffic areas though because they are super functional.
Despite this, most people don't prefer them in a space like a living room, because they find they are just too shiny. They can be beautiful though, so don't completely discount semi-gloss paint if your living room gets used a lot.
Satin Paint
Satin paints are a mid-level sheen for paint.
A satin sheen isn't too glossy, but also has some reflectiveness to it.
Because satin paint still has some level of shine to it, it is a durable paint finish that you can wash if needed.
Satin paint is a great option for a living room that is in a high traffic area.
Satin paint finishes are popular choices for the average person with the average room needs because they aren't too shiny, but are still functional.
Eggshell Finishes
If your living room is really only used by adults and there isn't a good chance of the walls getting marked up, an eggshell finish may be the best choice.
Eggshell finishes have a bit of luster and is the mid-point between durability and shine.
Eggshell finishes aren't terribly shiny, but they are also fairly washable.
An eggshell paint finish is a great choice if your living room gets some traffic, but you also can't stand a high sheen paint.
Eggshell paints won't be as durable as a higher-level finish, but they will look beautiful and will allow for some washing.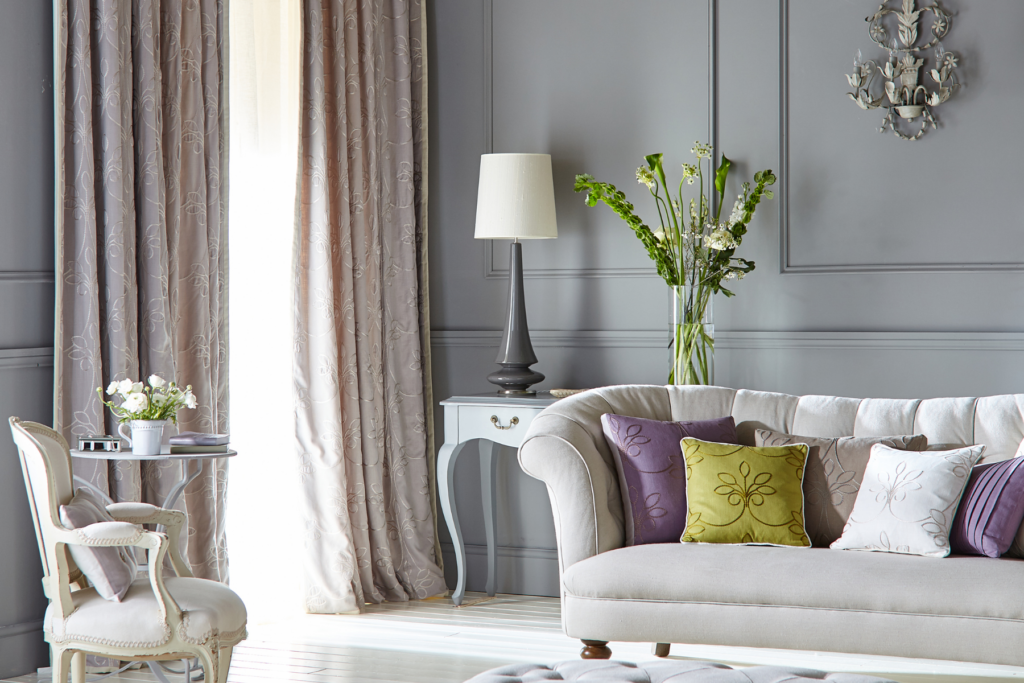 Matte Finishes
A matte finish is a low sheen paint that has almost no shine to it.
It looks smooth and will hide imperfections in the wall better than higher sheens will.
If you have a living room that is more of a formal sitting room, a matte finish might be a good choice for you. But, remember that you can't really wash the walls at all if you choose a matte finish.
The paint will come off on your rag, and you will see marks where you wiped.
Matte paint is a popular choice in living rooms, though, because of its nice low luster and how well it hides brush strokes and surface imperfections.
Flat Finishes
A flat paint finish can be the right finish for living room walls that are really never touched.
Again, flat finishes should not be used in high traffic areas.
Flat paint has the lowest level of sheen and reflects almost no light.
This makes it amazing at hiding wall imperfections and it can even help mask a textured finish at times.
People tend to really like the soft, elegant look that flat paint provides even though it is not the most practical option on the list.
If you do paint your walls with a lower sheen like matte or flat, just be prepared that you may have to paint more often than you would if you had chosen a higher, more washable sheen level.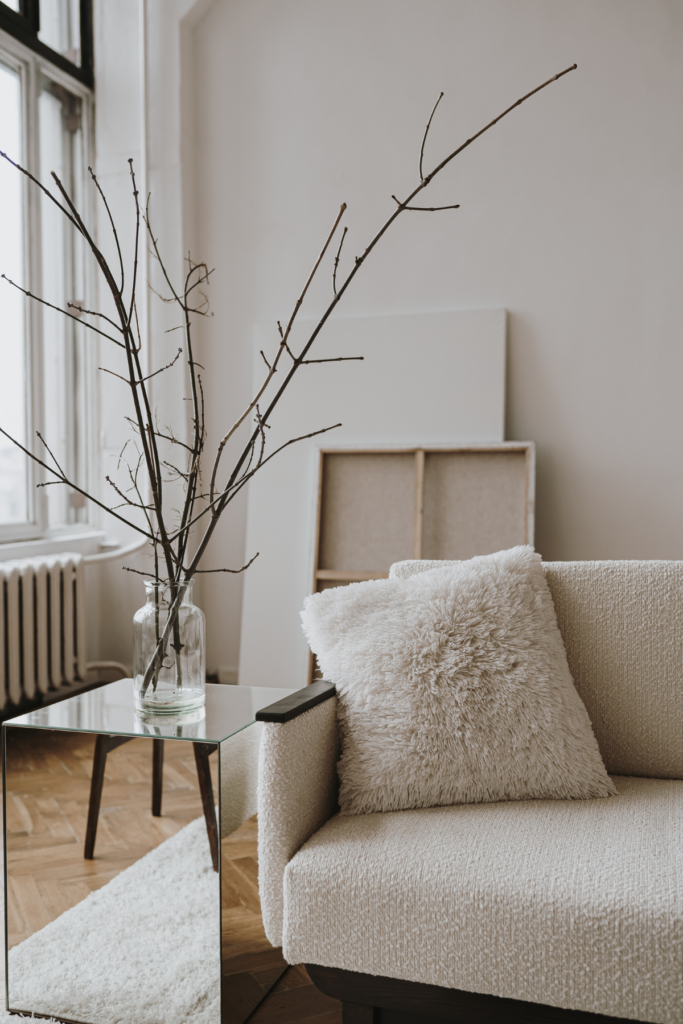 Final Thoughts on Different Types of Paint Finishes for Living Rooms
A good rule of thumb to remember when you're considering paint sheens for your living room is that as you go up in sheen, you also go up in durability and washability.
Glossier finishes are better in high-traffic areas because of the durable finish they provide.
Conversely, as you go up in sheen, you also increase the likelihood that you will see imperfections in the wall.
To choose the right paint finish for your living room, you need to consider your personal preference in how the different sheens look, but also the particular needs that your room has.
Do you need to wash the wall a lot? Choose higher sheen paints.
Do you have imperfect walls that you want to downplay? Choose a lower sheen.
If you need more information about paint finishes, or are looking for a handy paint sheen guide, check out this comprehensive article on paint sheens.
Also, check out the best paint colors for your living room if you are still trying to pick the perfect shade.