Choosing the perfect paint finish for your dining room is a great way to make sure the paint looks amazing for a long time to come.
Paint finishes come in a variety of different options, and the type of finish you choose will impact how the walls look and function.
Depending on your preference and how much traffic a room receives, you choose anything from a flow luster to a glossy sheen.
I've used both low sheens and high sheens in my dining room, and found that the paint sheen makes a huge difference.
Keep reading to learn what paint finish will be best in your dining room based on how you use the space.
This post may contain affiliate links. If you have any questions, please see my disclaimer page.
When I Tried a Low Sheen Paint for my Dining Room
Let me start by saying, my dining room was a high-traffic area. It was the place my family (with multiple small children) ate all of our meals.
But, I had some damage to the wall and decided to finish the new drywall myself. It was my first time doing drywall, and I was a little concerned that it wasn't as smooth as it could be.
Since I knew that high sheens show surface imperfections, and low sheens mask surface imperfections, I decided to paint my walls with a flat finish paint. I figured that I would just touch up the walls as needed.
Huge mistake.
I had so many marks, fingerprints, and grease stains on the walls from all the little fingers running their hands on the walls when they walked by that I would have had to touch them up nearly once a week if I wanted them to look good.
Washing the low sheen walls didn't work either, because the paint would come off every time I did, and it would leave streaks on the all. It required an entire re-paint.
So, the next time I painted the dining room, I made sure to select a paint with some shine to it.
The eggshell finish made it much easier to clean and was more forgiving with marks than the matte paint. (And, if you're wondering, the drywall job was smooth enough that you couldn't see it at all even with the higher sheen paint.
So to prevent you from making the same mistake I did, let's take a few minutes to review all of the different sheen levels to help you determine which will be best for your dining room
Best Paint Sheens for a Dining Room
High-Gloss Paints
High gloss paint isn't the most popular, but it definitely has its place on the right surface. A high gloss finish looks very shiny and reflective. It will reflect the most light back into a room, and will give a very distinct look.
Additionally, high gloss finishes are extremely durable, due to the strength that these types of paints have. They are very washable and still retain their color and glossy finish.
But, don't take these statements as an endorsement for high gloss finishes. Most people are not going to like the super reflective look that high gloss finishes have. They are just too shiny for the average person.
In fact, I couldn't even find a picture of a dining room with high gloss walls. But, this picture of a hallway will give you an idea of what a high gloss finish looks like.
If you have wainscotting in your dining room, you may be able to get away with a high gloss sheen, as people tend to expect woodwork to have glossy paint.
One more thought on high-gloss paint.
High gloss paint finishes are the most likely to show imperfections in the wall. This is because the light will reflect off of every crack, divot and bump that the wall has, making them even more prominent looking.
So, if you have a textured wall, you're going to really see that texture if you choose a glossy paint. If you want to downplay a textured wall finish, or have lots of imperfections in your wall, you probably want to look at a lower sheen paint option.
Glossy paints really only work when you have a really smooth surface to paint.
Semi-Gloss Paint
A semi-gloss sheen is a step down in reflectiveness from a high gloss paint. Semi-gloss paints have a good bit of shininess to them, but are more tolerable for most people than high-gloss paints.
Semi-gloss paint is commonly used on woodwork in homes, due to its durability. Like high-gloss sheens, semi-gloss sheens cure harder than lower sheens do, and this makes them more durable and washable.
Also like glossy finishes, semi-gloss paint is going to highlight surface imperfections more than a lower sheen will. They are a good choice in high-traffic areas though because they are super functional.
Despite this, most people don't prefer them though in a space like a dining room, because they find they are just too shiny. Theu can be beautiful though, so don't completely discount semi-gloss paint if your dining room gets used a lot.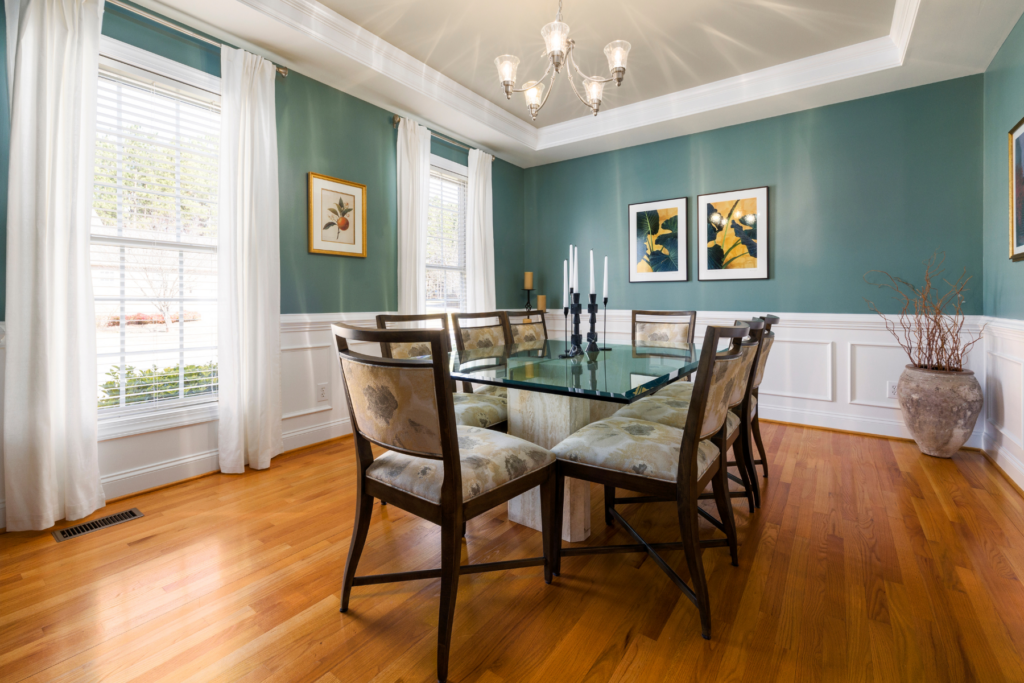 Satin Paint
If a semi-gloss finish still seems like too much shine for your wall, I strongly recommend a satin finish for high-traffic areas.
When you have a dining room that is used a lot or if you have a lot of little hands touching the walls, satin finishes have enough durability to be washed often but don't reflect too much light for the average person.
They also tend to be a little more forgiving for walls with some surface imperfections, though not as forgiving as lower sheen paints.
Satin paint is definitely considered a best choice in my book, because it is both washable and durable.
Additionally, they provide a bit of luster to make the walls look luxe and fresh, without looking too reflective.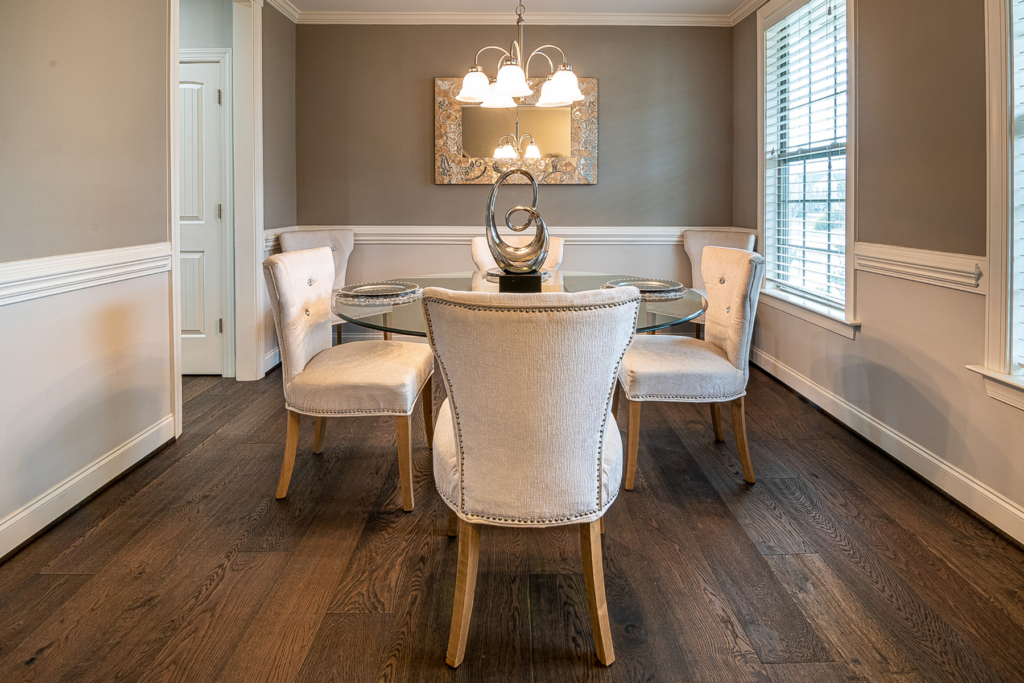 Eggshell Finishes
An eggshell sheen is a very popular finish because it is sort of the sweet spot between durability and shine. Eggshell finishes aren't terribly shiny, but they are also fairly washable.
An eggshell paint finish is a great choice if your dining room gets some traffic, but you also can't stand a high sheen paint.
Eggshell paints won't be as durable or washable as a higher-level finish, but they will likely get the job done while still looking beautiful.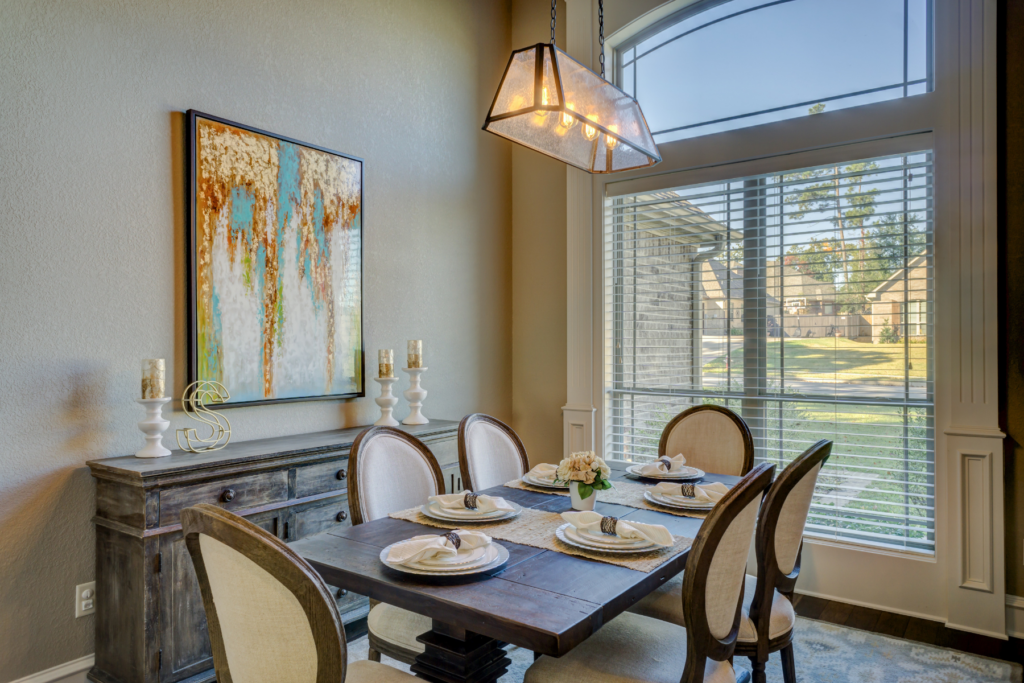 Matte Finishes
A matte finish has almost no shine to it. It tends to look smooth and soft, and will do a good job of hiding divots or bumps on the wall.
But matte finishes appear much better than they function. You can't wash them very much, so I would hesitate to use them in a dining room unless it is really just a room for looking at and not using.
Matte paint is a popular choice though, and you tend to find that a lot of new builds have matte paint. This is because low-level sheens tend to hide those surface imperfections and nail pops that contractors don't want you noticing.
Flat Finishes
Flat paint has the lowest level of sheen that you can get in a paint product. It reflects almost no light and do not have a shiny look at all.
Because of this, flat paint sheens are amazing at hiding wall imperfections and masking textured finishes. But, they will not stand up to much, or any, washing.
Some people tend to really love flat sheen paints though, despite them not being super functional.
They will work in a dining room if it doesn't get much traffic though, and will give a soft, elegant look.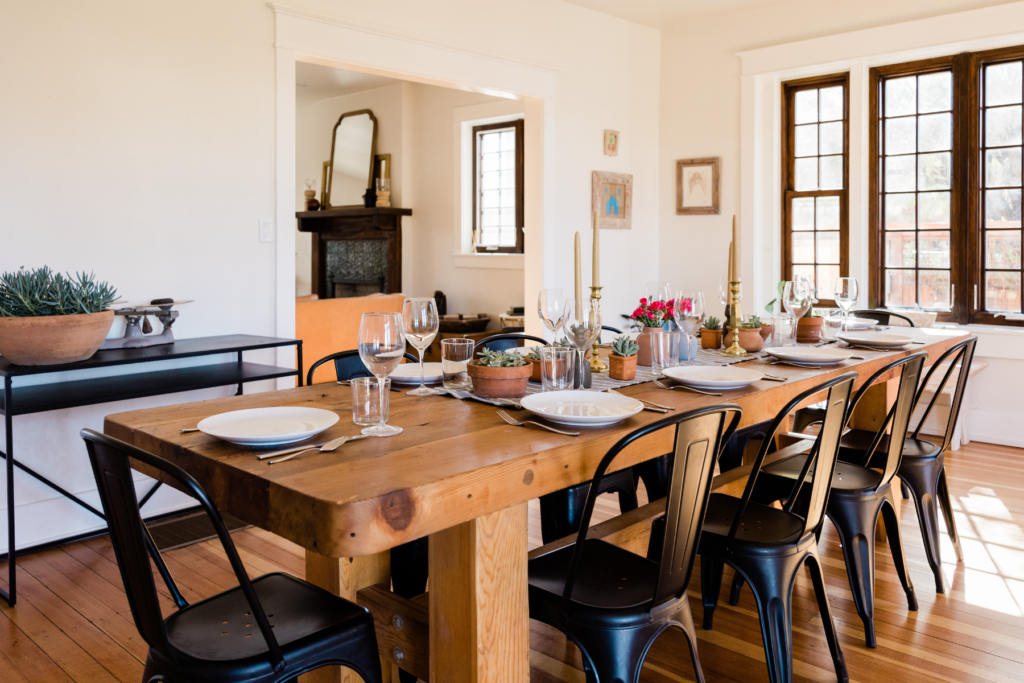 Final Thoughts on Paint Finishes for Dining Rooms
The type of paint sheen you choose is really up to personal preference in how you want the room to look, but there are some general guidelines to consider before choosing.
If you're considering the different types of paint finishes for your dining room, think about whether you need the most durable finish because it is a very high-traffic space, or whether you can get away with really low level of sheen in the space because it isn't used much.
It is important to get a paint job that is not only going to look good, but will also have the right finish and give you the best results long term.
If you want a little more information on paint finishes, check out this paint sheen guide for your projects.
Have a question or want to show off your project? Join the discussion in Love Remodeled's Facebook group!