If you want to paint your bathroom walls, the most important thing isn't actually the color. The most important consideration when painting bathroom walls is what finish of paint to use!
This is because using the wrong paint finish can be a nightmare for a homeowner. Using the wrong paint in a bathroom can lead to peeling paint, and worse, mold and mildew growth.
In fact, a friend was just telling me how their bathroom paint is peeling off in multiple layers because the prior homeowners used the wrong kind of paint when they painted the bathroom.
So, if you want to avoid this kind of nightmare situation in your own home, keep reading for all the things you need to know about bathroom paint finishes.
This post may contain affiliate links. If you have any questions, please see my disclaimer page.
Why Paint Finishes are Important
Bathrooms are high-humidity places. All of the steam that comes from a hot shower causes humidity in the air, which can lead to mold and mildew problems if you're not careful.
While some of the humidity in a bathroom can be taken care of with an exhaust fan, even with the proper ventilation you still need the right kind of paint.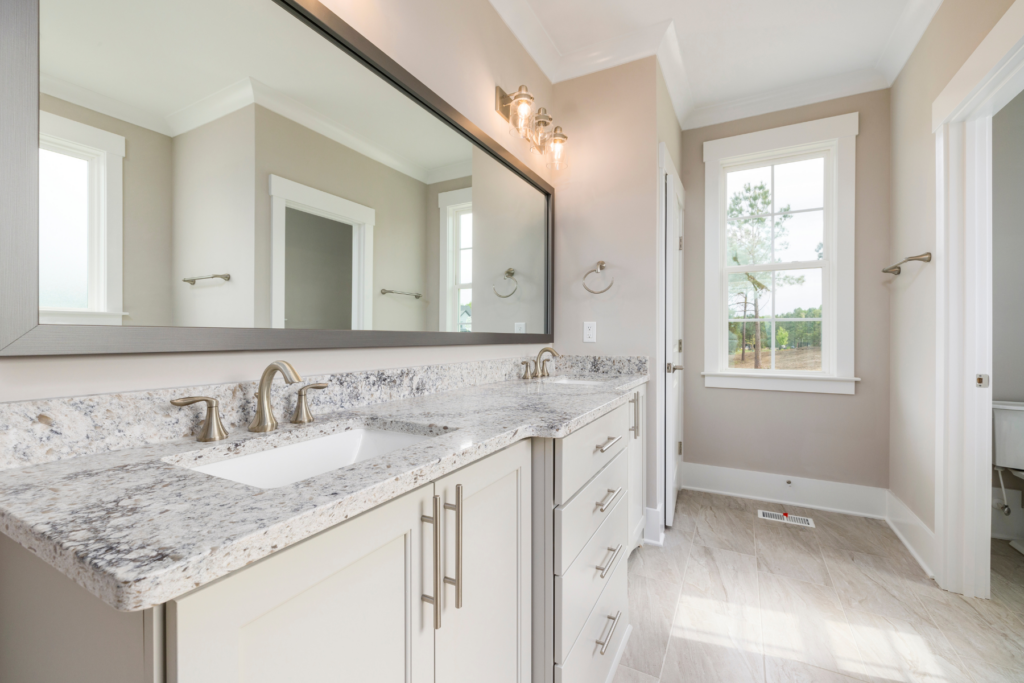 The Best Paint Finishes for a Bathroom
The best type of paint is going to be one that resists moisture in the air.
There are a few different ways you can go when trying to figure out how to best paint your walls.
Here are some options for the best bathroom paint and the best bathroom paint finishes.
Mold and Mildew-Resistant Paint
First, you can choose a paint that is designed with mold-resistant properties.
A great example of this is Zinsser Perma-White Mold and Mildew Proof Interior Paint. It comes in a white paint, but it can be tinted to be many light or medium shades of paint.
With a five year guarantee, this paint inspires a lot of confidence. In addition to its mold and mildew resistant properties, it is also washable, scrubbable and stain resistant.
Mold and mildew-resistant paints come with antimicrobial additives that help to ensure a long-lasting paint job in the bathroom.
Mold-Resistant Primer
Another option would be to start with a mildew and mold-resistant primer.
Kilz Mold and Mildew is an interior/exterior primer that contains EPA-registered mildewcide to percent mold and mildew growth.
This makes it a great choice for bathrooms or other high-humidity places where mildew likes to grow.
Of course, if you already have mold or mildew in your bathroom, this primer will not kill the mold. You need to remedy the existing mold and mildew, and then you can use this primer to inhibit future growth.
While you still want to follow up with a quality paint (and preferably in a high sheen), starting with a primer with mildew-resistant properties can definitely help.
High-Gloss Paints
Semi-gloss paint is a great option for painting your bathroom walls.
It doesn't have mildewcide in it like some of the other options on the list, but glossy finishes are naturally somewhat resistant to moisture because the high sheen creates a hard, durable finish that acts as a barrier to moisture.
Semi-gloss finishes are your most durable paint finish as well, making them easy to clean. This is essential in a bathroom.
While you typically see semi-gloss paint on trim and wainscotting, it can also be used on walls.
While you may not want a shiny finish on the walls of your living room, in a bathroom they seem to make more sense.
The Skinny on Other Types of Paint Finishes
The three paint options I mentioned above are my top three recommendations, but you may have questions about whether other paint finishes will do the trick.
Satin Paints
Many people don't like the way that high gloss paints look, and if you're one of those people, satin paint is the next best option. A satin paint finish has some sheen to it, but not as much as semi-gloss.
Satin finishes should still resist most of the moisture in the bathroom, but they won't have that shiny reflective look.
Additionally, satin finishes still have a lot of durability to them, so you can scrub the walls when needed.
Even though semi-gloss paints are a better option for a bathroom, the most popular choices tend to be satin finishes.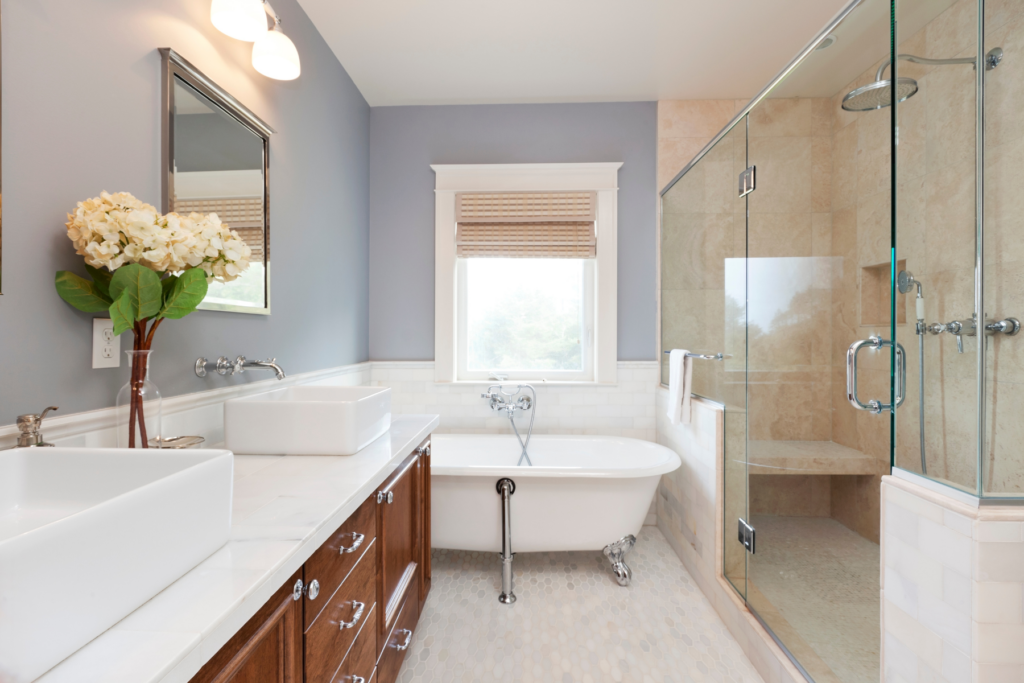 Eggshell Paints
Another paint option is eggshell paint, which is a step down in sheen level from satin.
Eggshell finishes will have some shine but even less than satin.
Again, this won't provide as much moisture resistance as a higher gloss sheen will, but if you have an exhaust fan in your bathroom, your walls will probably be fine.
This is especially true if you are painting a powder room, where you don't have to worry about people taking long, hot showers.
Flat and Matte Paints
Last, you have your matte or flat finishes. A flat paint has almost no sheen to it at all.
Flat and Matte finishes are the last choice of paint for a bathroom wall. Unlike glossy paints, they are not very durable and you really can't clean them.
If you are set on a flat finish in your bathroom, I would recommend using Benjamin Moore's Aura Bath and Spa Paint.
It comes in a matte finish, and is specially designed to be used in a bathroom. This makes it likely to hold up better than your average matte paint.
If you want more information about what type of paint finish is best for different spaces in the home, check out this article for all the details about paint finishes.
Final Thoughts on Bathroom Paint Finishes
Selecting the right paint finish for your bathroom is crucial to ensuring a long-lasting, quality paint job.
The best choice will be to go with a mildew-resistant or semi-gloss paint, as these will resist the moisture that leads to mold.
If you're looking to give your bathroom fresh coat of paint, you don't have to hire a professional painter to do it. Painting is a task that is easy for even a novice DIYer. Check out these tips on how to paint a room.
Lastly, be sure to check out this article on bathroom paint colors. Whether you're looking for neutral colors or more of a spa-like shade, you're sure to find a great paint color for your bathroom.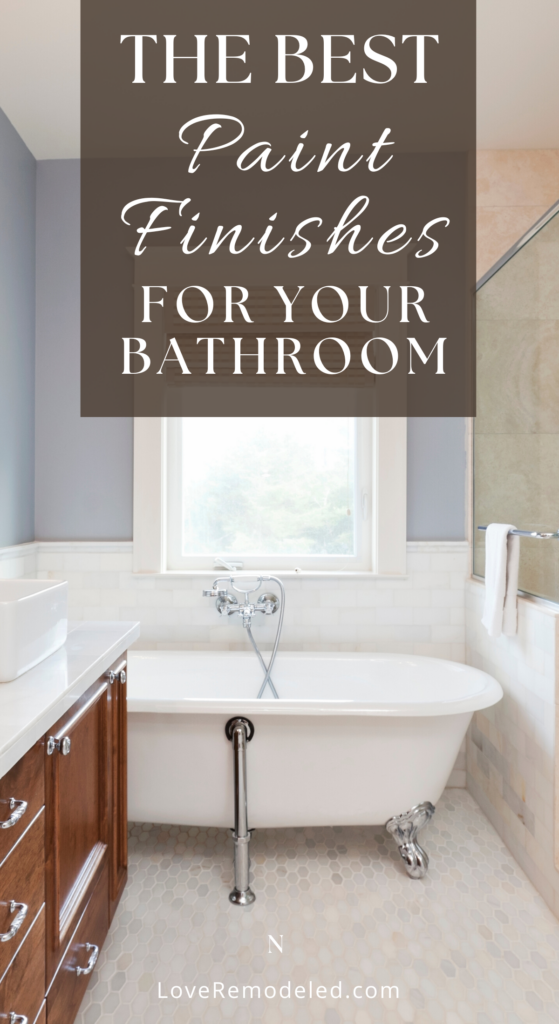 Wondering How To Pick the Perfect Paint Color?
I have the best solution for you!
Samplize sells 9×14.75 stick-on paint sheets in almost every paint color.
These no-mess, peel and stick sheets are made from real paint, so they will show you exactly what the paint color will look like.
Simply place them on your walls next to your trim, furnishings or fixed elements, and easily see which paint color works best in your space and with your lighting.
Then, peel the sheet off your wall and reapply it somewhere else if you like. You can try several different paint colors with no mess, no fuss and no cleaning paint brushes.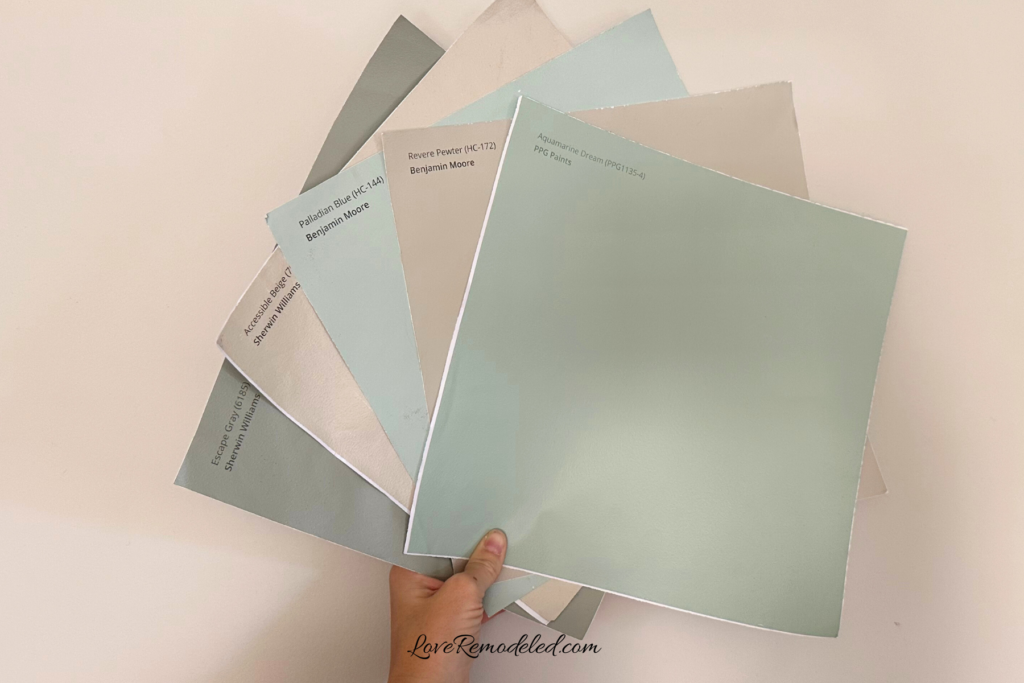 Oh, and you can have them in your home by tomorrow with OVERNIGHT shipping!
As a bonus, be sure to use the code LoveRemodeled10 at check out to get an extra 10% off! Samplize sheets are cheaper than a sample can of paint, and way less work.
They are the easiest (and fastest!) way to try a paint color in your home, with no hassle.