When you want to change the color of your marble, the easiest way to do it is to paint the marble.
Painting marble is really easy, and completely changes the way the marble looks.
Really, there is very little prep work involved in painting marble. The whole DIY can be completed in a few hours.
If you're looking to paint marble, keep reading for all the details you need to know to make this project a success.
Also, check out the before and after showing where I painted my marble fireplace surround!
This post may contain affiliate links. If you have any questions, please see my disclaimer page.
Can You Paint Over Real Marble?
Yes, you can paint over real marble!
Painting marble is an easy way to change the look of your marble surface.
While some people try this sort of project on their marble countertops, I would recommend reserving painting marble for something with a little less use, such as a table or a fireplace surround.
The key to painting marble is to make sure the surface is completely clean and free of any oils, and to use a good paint. These two things will ensure that the paint sticks to the marble and looks amazing for years to come.
I'll explain all of the steps of painting marble in more depth later.
The Best Paint for Marble
Most sources agree, the best paint for painting marble is chalk paint.
Chalk paint requires little to no prep work, and has strong adhesion.
Not all chalk paints are created equal though.
Be sure to get a chalk paint from a reputable company, such as this one from Rustoleum. Amy Howard and Annie Sloan paints are also really popular.
If you don't want to use chalk paint, you can use regular paint as well, but I would strongly recommend using a primer before applying the paint.
Do You Need to Prime Marble Before Painting?
You absolutely can prime marble before painting it, but if you're using chalk paint, you don't need to.
If I was going to prime the marble before painting it, I would use a primer with really strong adhesion such as Stixx or Kilz Adhesion.
These types of primers are formulated to stick to slick surfaces that other paints won't.
Will Paint Stay on Marble?
I have been really shocked at how well the chalk paint has stayed on my marble fireplace surround.
Between my children playing on the marble hearth, and the Roomba running up and over it, I had expected to see some chips. But, even the edges have held up with not a single chip.
How Do You Paint Something Marble?
Here are the steps to painting marble:
Clean the surface with a degreasing cleaner such as Krud Kutter.
Optional – Sand the surface with sandpaper to degloss the surface. Paint always adheres better to scuffed up surfaces.
Optional – Prime the surface with an adhesion primer.
Paint the surface with chalk paint and a foam roller. Use long, even strokes and apply a thin coat.
After the first coat is dry, apply a second coat with a foam roller.
Continue with additional coats until marble is evenly covered.
Optional – Seal the paint with a top coat.
Painting marble is as easy as it sounds. Its all about using the right products to get a smooth and strong finish.
I recommend mini foam rollers, chalk paint and a quality top coat for best results.
Painting Marble Before and After
Recently, I did a soft refresh on my marble fireplace.
The surround was made of green marble, and didn't go with my design style.
So, I started by applying real stone peel and stick tile to the surround. You can read all the details on that for a quick and easy DIY.
When that was finished, I set to work painting the marble hearth.
First, I cleaned the marble surface with a degreasing cleanser. When it was dry, I vacuumed everything really well to make sure there was no debris left on the surface.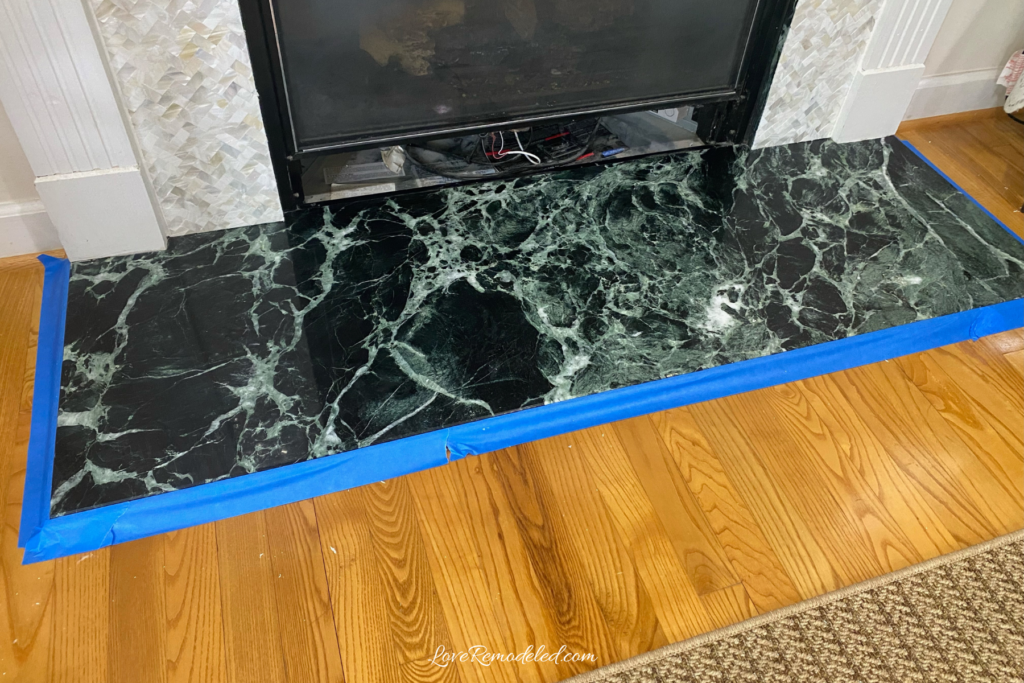 Then, I taped off all the areas that I didn't want to get paint. I also removed the bottom of the fireplace insert so I could get paint the whole way under it.
I skipped the optional step of using a primer, because I wanted to test how chalk paint would adhere without a primer.
As many DIYs as I have done, I've never used chalk paint before. Since everyone raves that it adheres to everything, I had to try it out.
This is after my first coat. As you can see, I did a very light coat. Many light coats adhere better than thick ones.
I did three coats in total before the marble was completely covered.
After the chalk paint was dry, I finished up by putting a top coat on.
I had leftover floor paint top coat from when I had painted my tile bathroom, and decided to use it.
It had worked well in the past for the same purpose, so I figured it would work on the hearth.
Using a top coat not only makes the finish stronger, but it also gives a little bit of sheen. Chalk paint is a very matte look, and I wanted my marble hearth to have a bit of shine.
Here is how painting my marble fireplace turned out.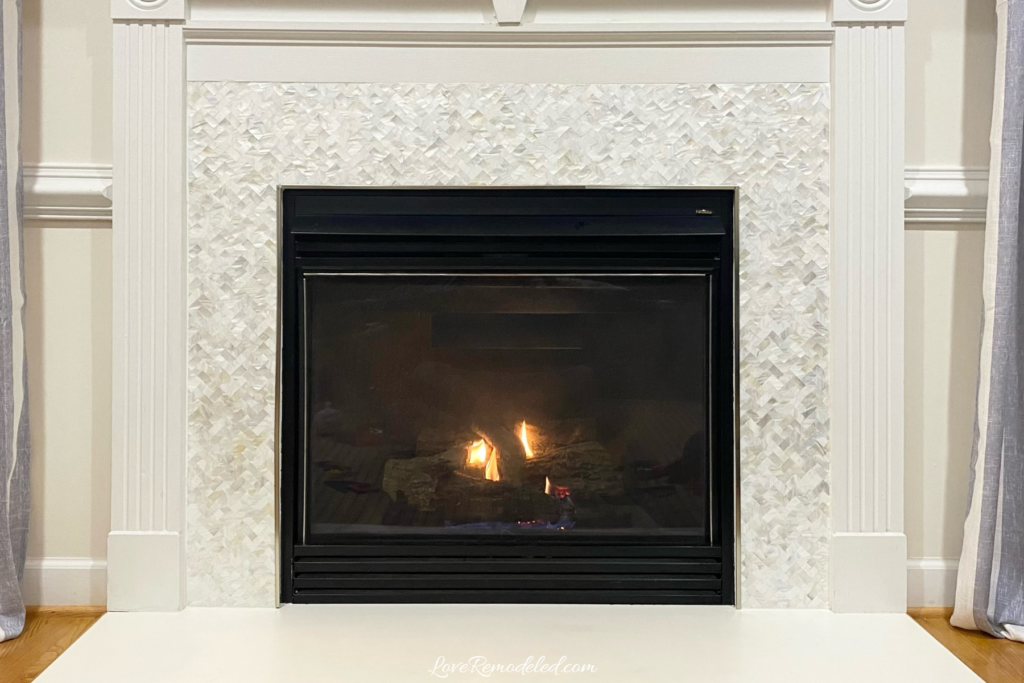 Final Thoughts on Painting Marble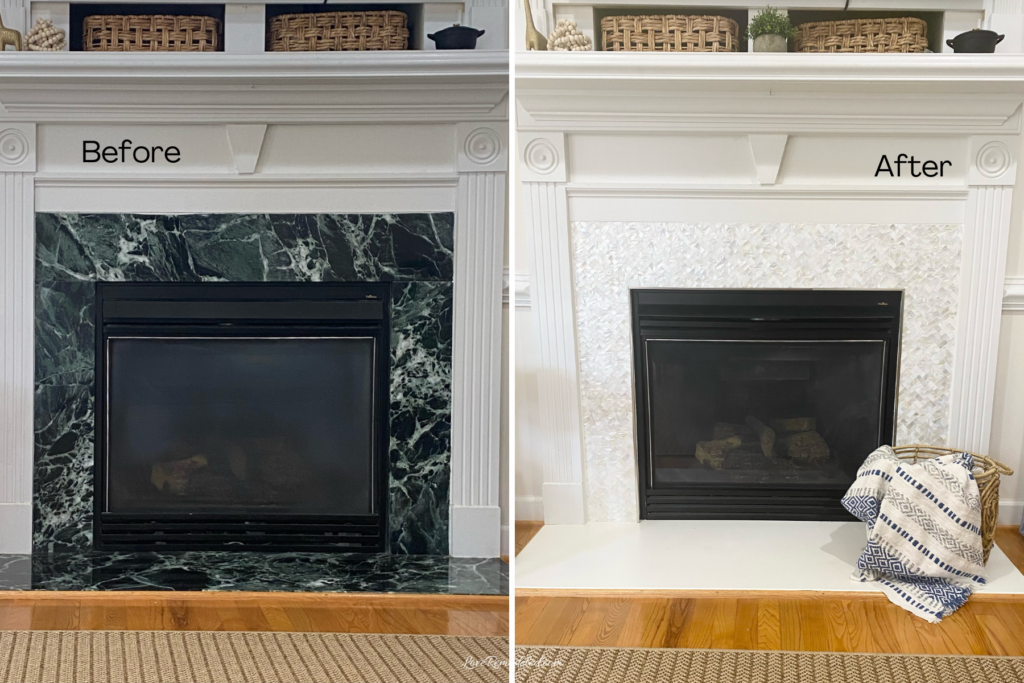 Painting marble is a quick and easy way to change the way your marble looks.
It works really well for surfaces that get light use, such as a decorative table or a marble hearth.
I wouldn't use this method to change the way marble countertops look, because I don't think it would hold up to heavy use or frequent cleaning.
But, if you're looking to do a quick update in your space on lightly used surfaces, painting ugly marble will definitely do the trick!