Yellow paint colors can instantly make a room feel bright and cheery. Yellow is a shade that tends to make people feel happy and spontaneous, optimistic and carefree.
As a paint color, yellows can be muted and subtle or bold and dramatic. This article will discuss the spectrum of yellow paint colors, including what shades are popular right now, and what other colors coordinate with yellow paint colors.
This post may contain affiliate links. If you have any questions, please see my disclaimer page.
Is Yellow Paint in Style?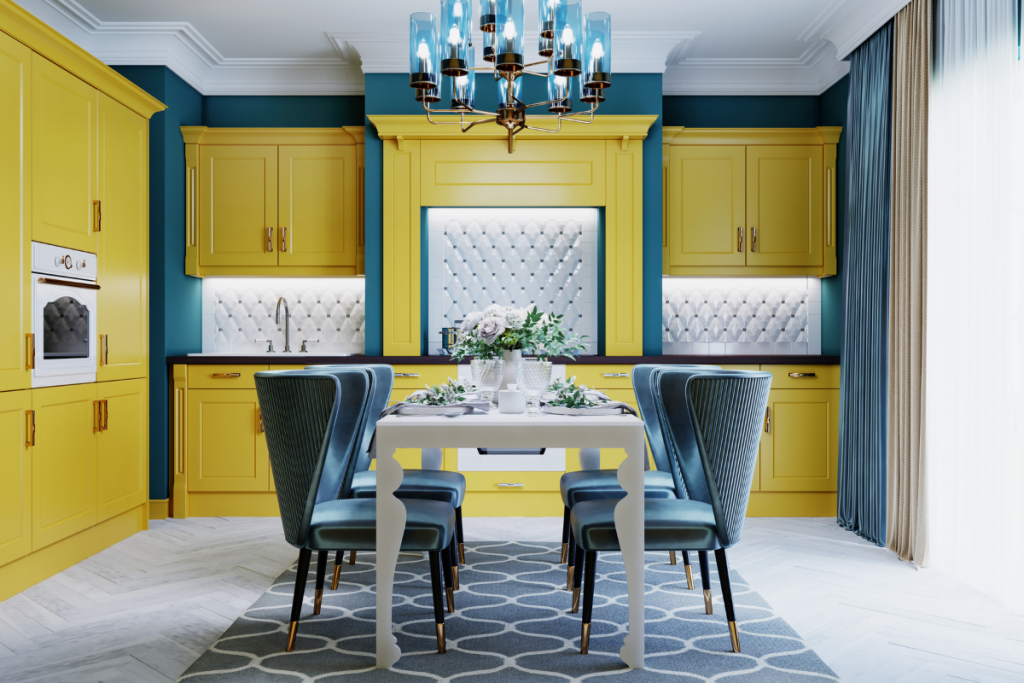 Yellow paint is definitely in style right now. It is both classic and trendy.
In fact, in 2021, Pantone chose Illimunating as their color of the year. Illuminating is a cheery, hopeful yellow shade that is rather bright.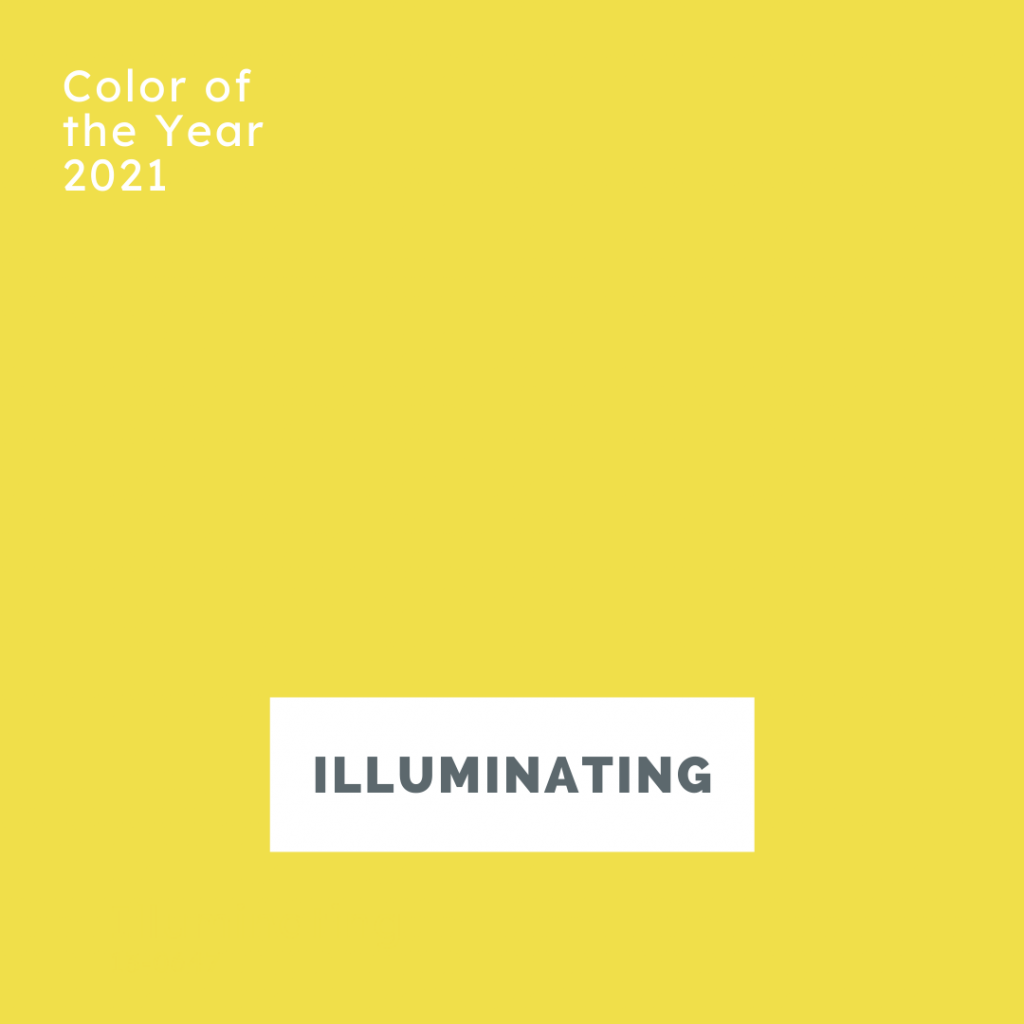 People who choose yellow paint know what they want, and are willing to be bold and take some risk. Fortune favors the bold, as they say, and yellow paint colors can make a space look distinctive and inviting.
Is Yellow Paint Good for a Living Room?
Yellow is a great color for a living room. Any sort of yellow can work, depending on the look you want to give the space.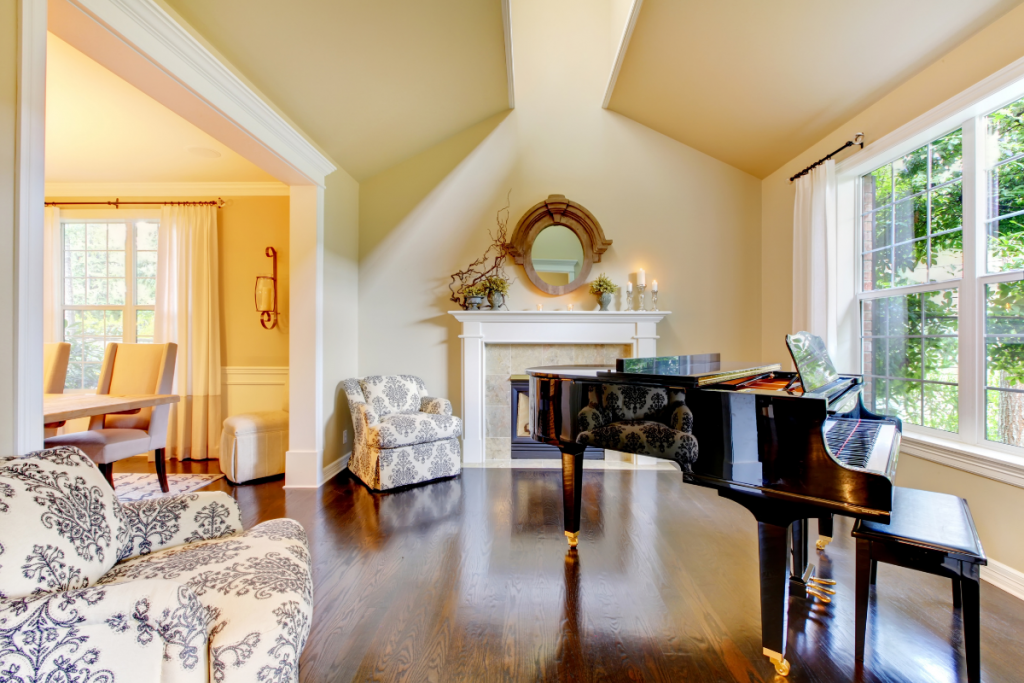 In this picture, this very light, creamy yellow gives the room a classy appearance.
Is Yellow Paint Good for a Kitchen?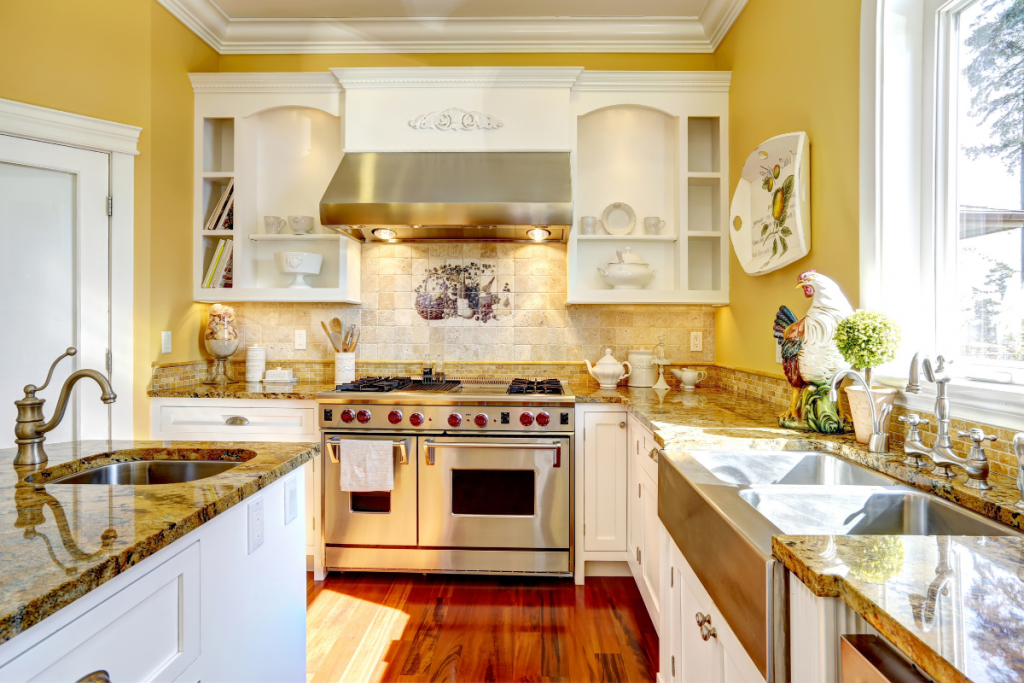 Yellow is a great color for a kitchen. It feels clean and fresh, reminiscent of lemon freshness.
Yellow works with lots of different styles of granite and looks amazing when paired with white, black or stainless appliances.
Is Yellow Good for a Bedroom?
While yellow isn't the most popular paint color for a bedroom, it is a very classic paint color. Pale yellows are frequently used in master bedrooms, guest rooms, or children's rooms.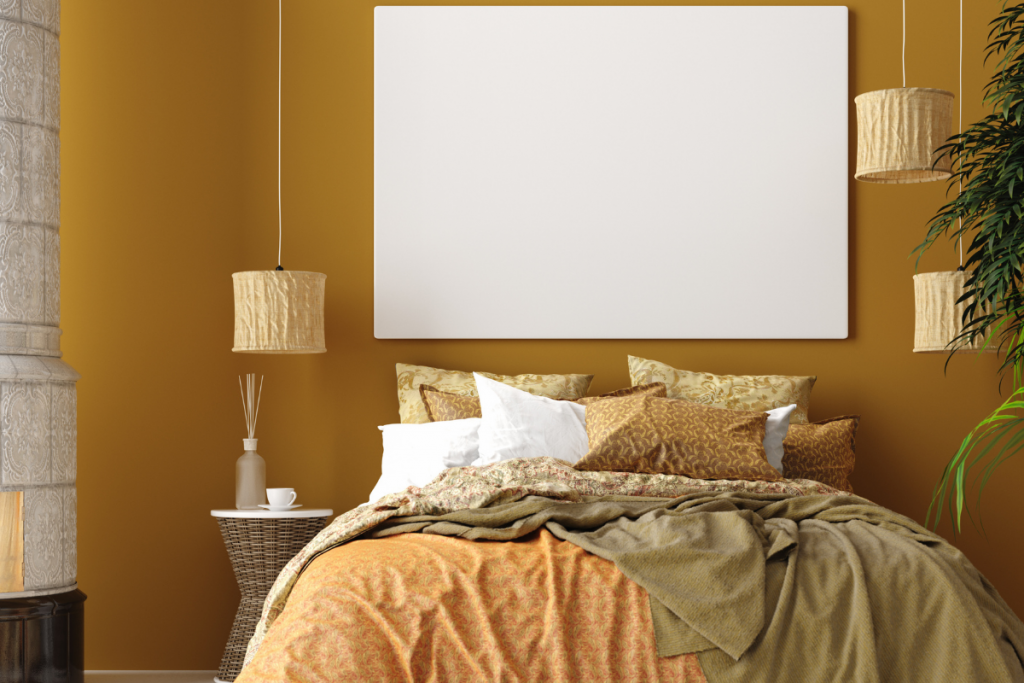 If you prefer a more bold yellow in a bedroom, a mustard yellow can act as a neutral. This gives a bedroom a more earthy look.
What Colors go with Yellow Paint Colors?
Yellow is actually a much more versatile paint color than you'd imagine.
As a general rule, yellow goes well with pinks, blues, greens, browns, grays, navys, whites, and blacks.
Pale Yellow Paint Colors
Pale yellow paint colors are light and airy shades that make a room look bright and cheerful. They tend to lean more towards elegance than playfulness.
Here are my top three picks for pale yellow paint colors.
Windham Cream, by Benjamin Moore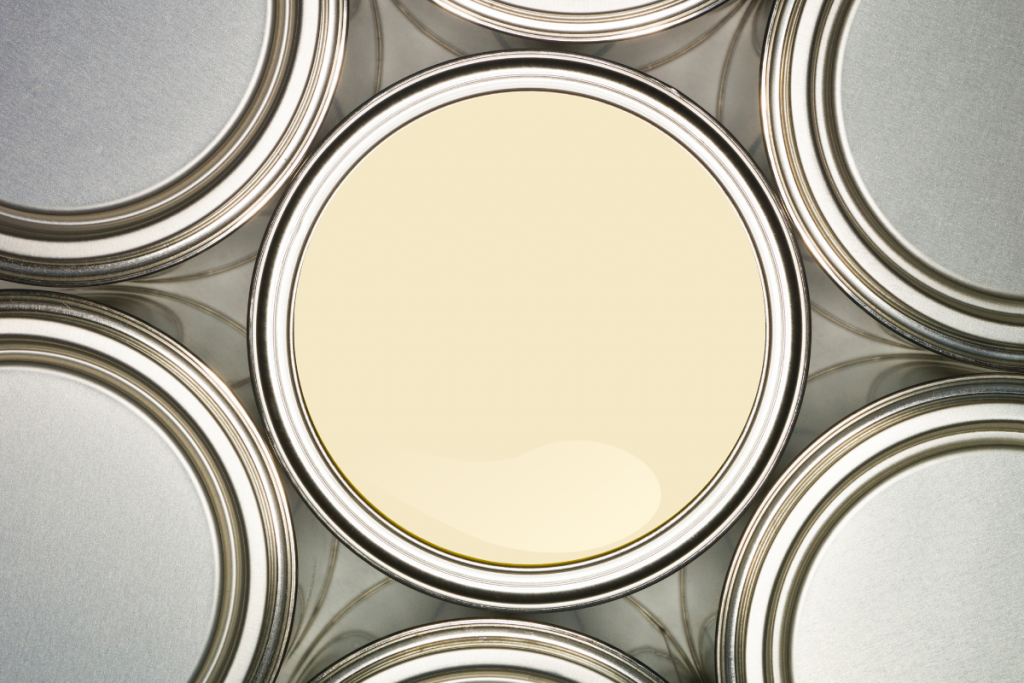 Windham Cream is a soft yellow paint color by Benjamin Moore. It is included in Benjamin Moore's Favorites Fan Deck, which means that it is one of the most popular colors that they sell.
Windham Cream is pale and buttery. In fact, Benjamin Moore gave it the name "cream" because of how light it is.
Cream paint colors are typically just very soft, pale yellows. While Windham Cream does have a bit of a beige tone to it, leaning towards cream, I would probably classify it as a yellow instead of a cream.
(If you like cream paint colors, check out this post for more options.)
Windham Cream just has a bit more yellow in it than a true cream, in my book.
It is a perfect pale yellow that works in a variety of spaces to give a mature, classic look.
Lily, by Sherwin Williams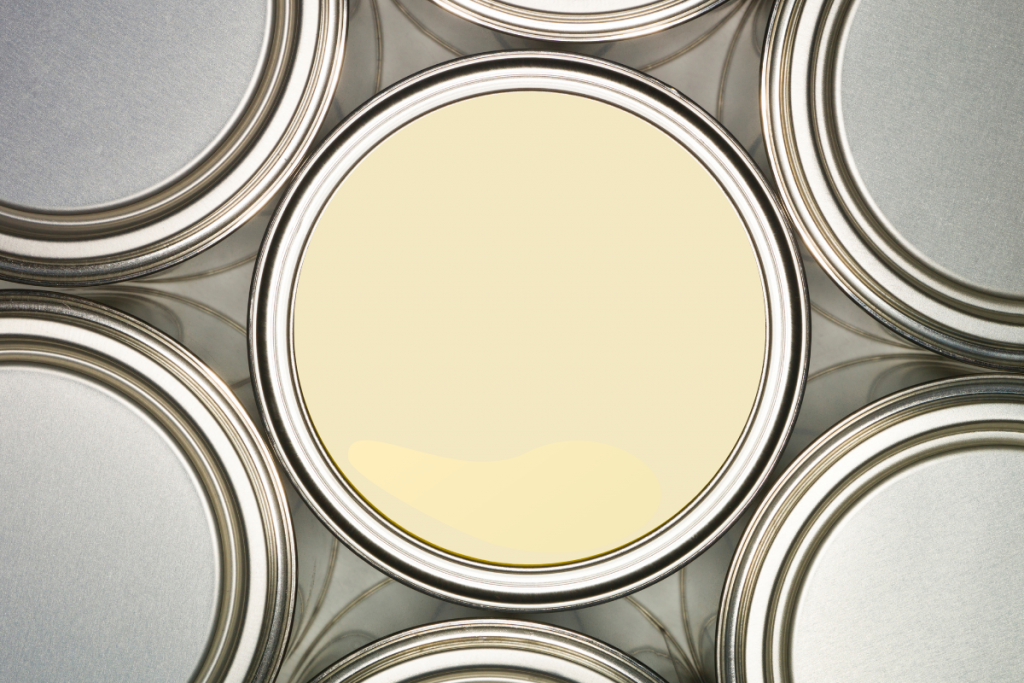 If you are looking for a pale yellow paint color that has a bit more yellow to it than Windham Cream, Sherwin Williams' Lily is a nice choice.
Lily is a sunny paint shade that is soft and gentle. It is a shade that can look refined and sophisticated when used with coordinating shades like navy and gray, or can look fun and whimsical when used alongside brighter shades like pinks and blues.
Optimistic Yellow, by Sherwin Williams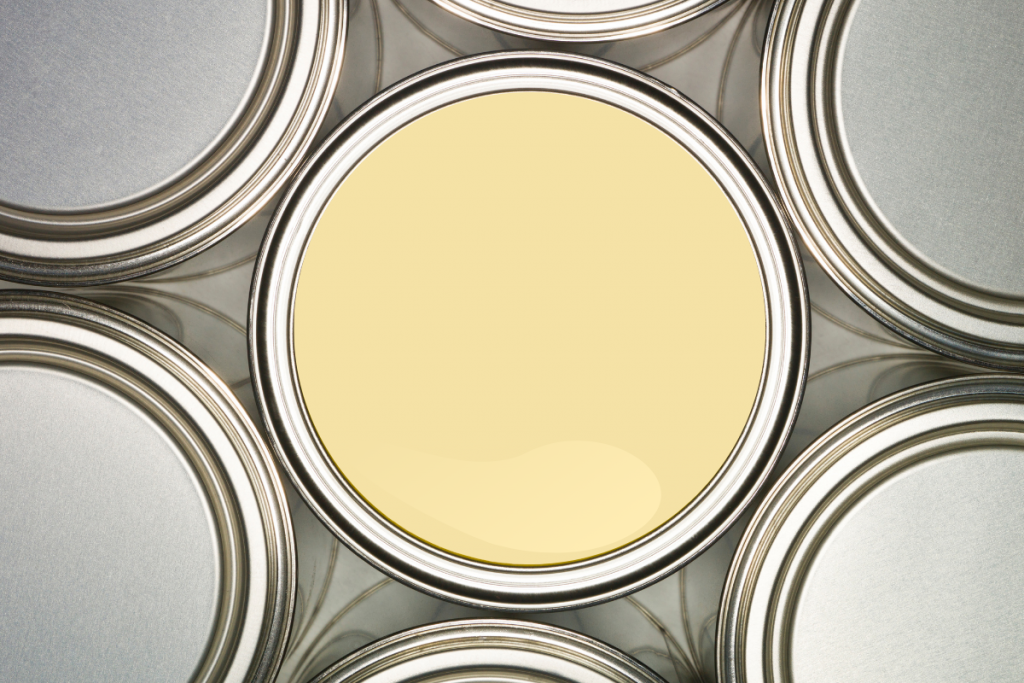 For a pale yellow that packs a little bit of a punch, check out Optimistic Yellow. This Sherwin Williams paint color is trending towards bright, but can still bring a very classic look and feel to a space.
Optimistic Yellow is a cheerful, sunny shade that is a true yellow. It has very little beige or neutral tones to it, and doesn't really lean orange either.
Warm Yellow Paint Colors
If you want a yellow that has a bit more depth and substance, check out these warm yellow paint colors.
The yellow paint colors included in this section are a step up from the pale yellow shades in terms of brightness and depth.
The yellow shades in this section range from bold and punchy to bright and summery.
Golden Plumeria, by Sherwin Williams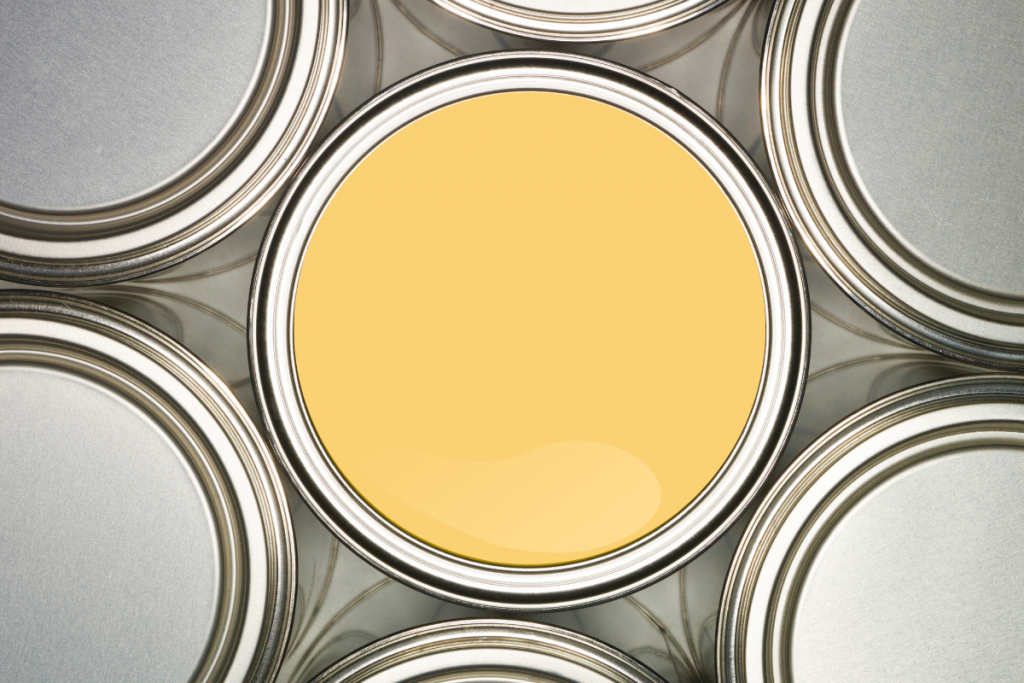 Sherwin Williams Golden Plumeria is a rich, golden yellow. It has a bit of orange to it, which tends to give it a more grounded look than the more sunny yellow shades have.
Golden Plumeria has a bit of depth to it, but not so much that it will look too stuffy on your walls. Golden Plumeria has the right amount gold to it to feel luxe.
It is a great paint color for cabinets or even walls.
Hawthorne Yellow, by Benjamin Moore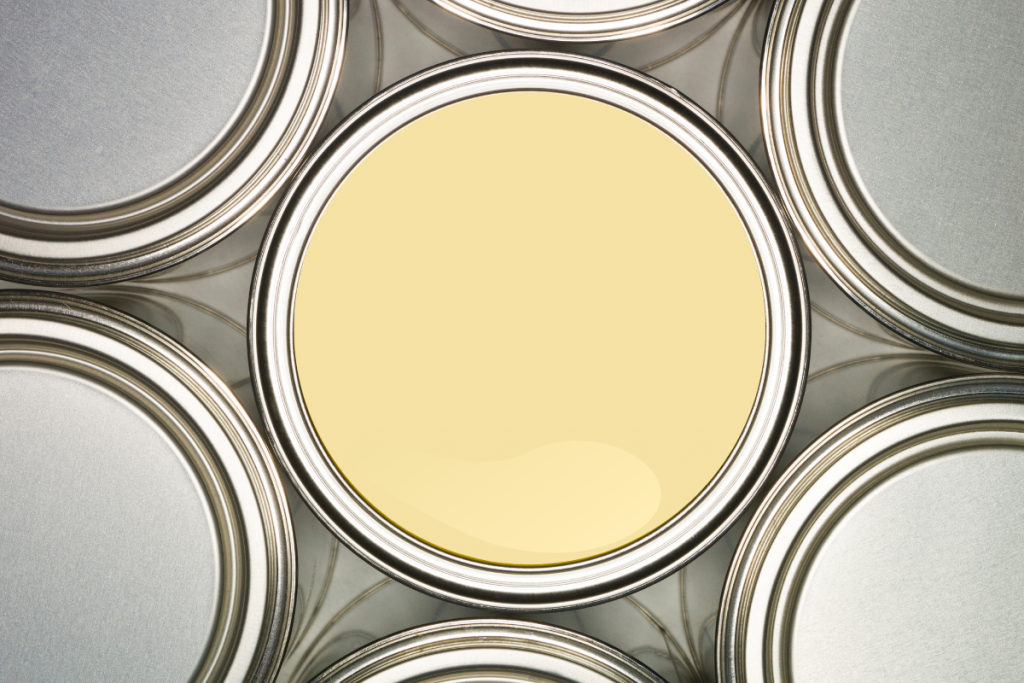 Hawthorne Yellow is warm yellow paint color that has a bit of brightness without being jarring. This is because Hawthorne Yellow also has some beige/orange undertones that give it a little more weight.
Hawthorne Yellow is another one of the paint colors that is included in Benjamin Moore's Favorites fan deck.
If you want a yellow paint color that is sunny but still mature, Hawthorne Yellow may be the shade for you. This shade is reminiscent of the Victorian era. It is a mid-tone paint color, meaning it has some depth, but doesn't look dark.
In addition to being used as an interior paint color, Hawthorne Yellow is also a popular exterior shade.
Lemon Twist, by Sherwin Williams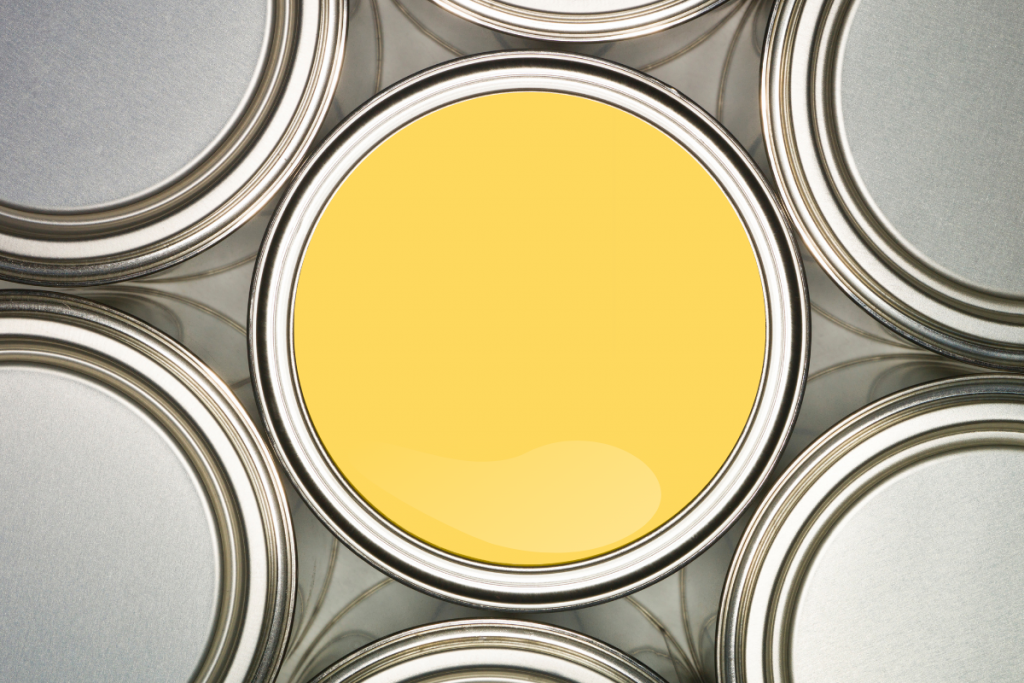 Lemon Twist is about as yellow as a yellow paint color comes. It is bold and bright, without any sort of reticence.
Lemon Twist, by Sherwin Williams, is more of a true yellow than some of the other shades on the list. While some have orange or beige undertones, Lemon Twist is just yellow.
If you want a punchy sort of yellow, Lemon Twist will not disappoint.
Mustard Yellow or Gold Paint Colors
Lastly, if you want a yellow paint color that has a warm, earthy tone, these shades are for you.
Mustard yellow or gold paint colors give a space a distinctive, swanky look.
Chestertown Buff, by Benjamin Moore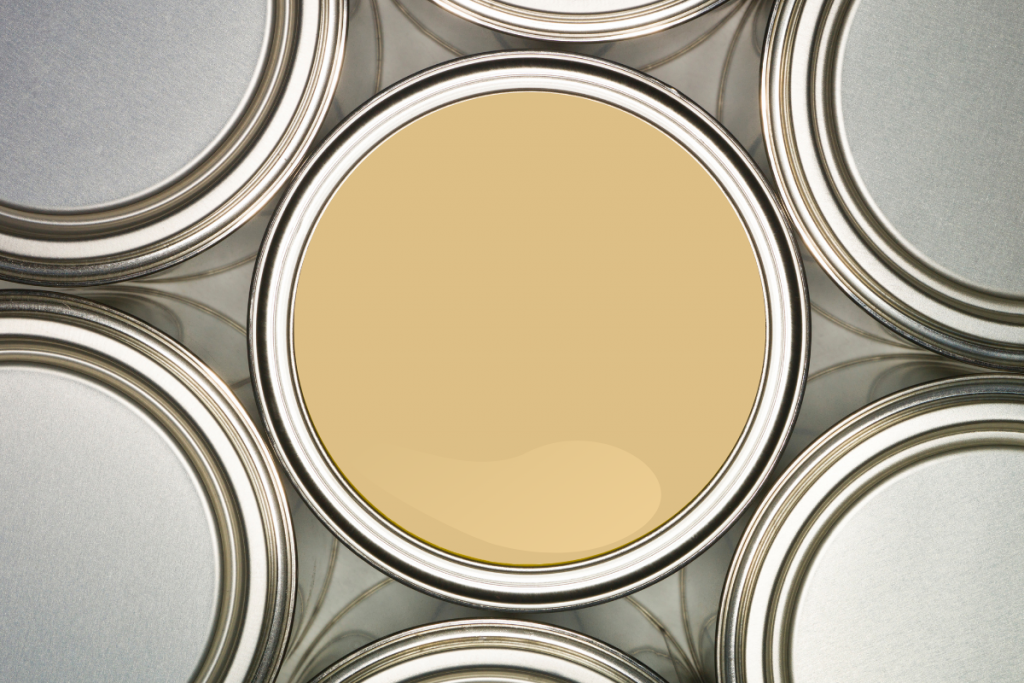 Chestertown Buff is one of Benjamin Moore's most popular dark yellow paint colors. Chestertown Buff is earthy and refined.
It is a great shade for an office, dining room or living room.
Kingdom Gold, by Sherwin Williams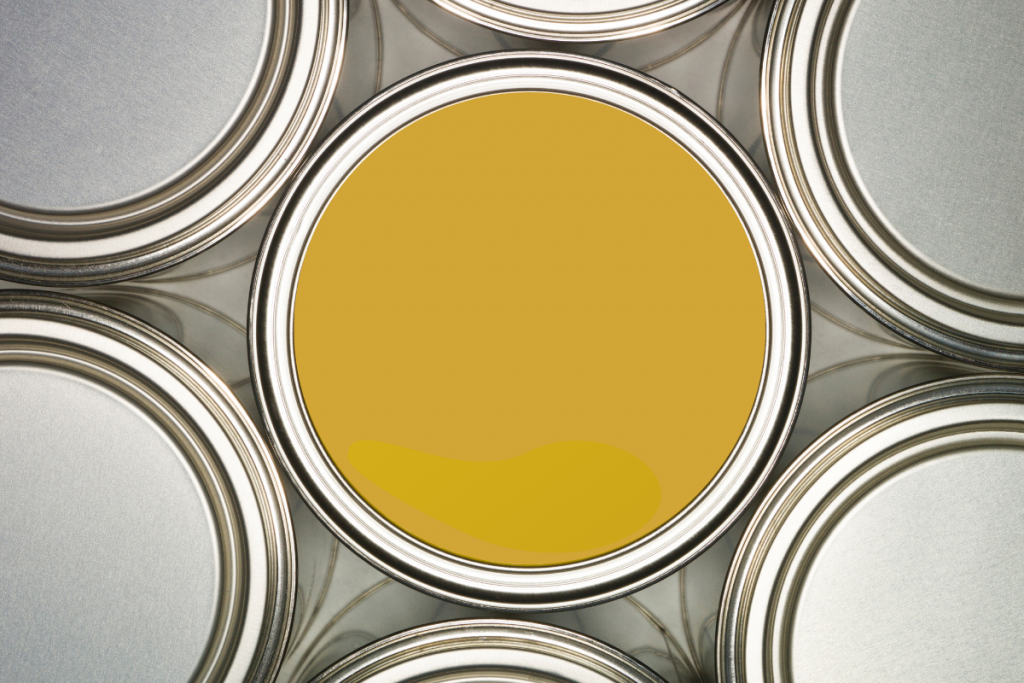 Along the same lines as Chestertown Buff, Kingdom Gold is a bit of a more punchy gold paint shade. This Sherwin Williams paint color is a classic gold that is always in style.
Kingdom Gold would look great with earthy sort of tones, navy blues or crisp whites.
How Do You Choose a Yellow Paint Color?
When you are thinking about painting your room, cabinets or accent wall yellow, it is important to consider the style that you're going for. Sometimes, it is easier to think about this by deciding what sort of feel you want the room to have.
For instance, mustard yellow or gold paint colors tend to give a space a luxurious look and feel. Pale yellow paint colors lend more elegance. And bright yellow paint colors can feel lively and inviting.
Once you know how you want your room to feel, choosing a paint color comes down to finding out which one works in your space. My favorite way to do this is by using Samplize squares.
Wondering How To Pick the Perfect Paint Color?
I have the best solution for you!
Samplize sells 9×14.75 stick-on paint sheets in almost every paint color.
These no-mess, peel and stick sheets are made from real paint, so they will show you exactly what the paint color will look like.
Simply place them on your walls next to your trim, furnishings or fixed elements, and easily see which paint color works best in your space and with your lighting.
Then, peel the sheet off your wall and reapply it somewhere else if you like. You can try several different paint colors with no mess, no fuss and no cleaning paint brushes.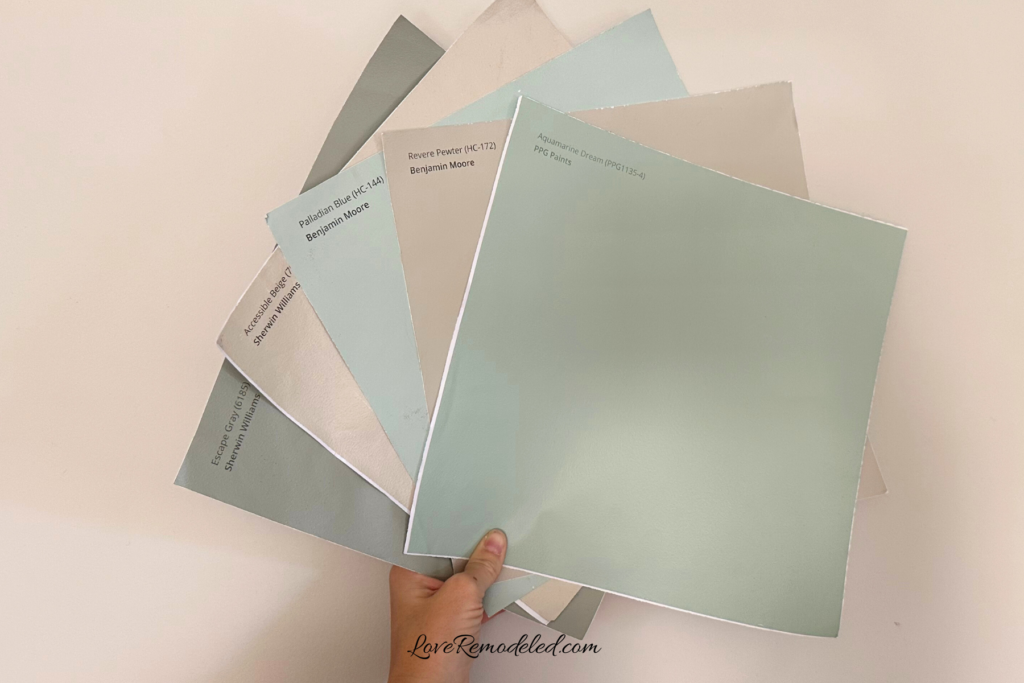 Oh, and you can have them in your home by tomorrow with OVERNIGHT shipping!
As a bonus, be sure to use the code LoveRemodeled10 at check out to get an extra 10% off! Samplize sheets are cheaper than a sample can of paint, and way less work.
They are the easiest (and fastest!) way to try a paint color in your home, with no hassle.
Final Thoughts on Yellow Paint Colors
Yellow is a great paint color for a home. Yellow paint can run the gamut from muted to bold, whimsical to dramatic, and classical to modern.
While it isn't the most common paint color, a yellow shade was chosen as Pantone's Color of the Year in 2021. With this in mind, it is expected that we will see home design and decor leaning more towards yellow shades.
If you want a paint color that will give your home a distinctive look and feel, go with a yellow paint color!
Have a question or want to show off your project? Join the discussion in Love Remodeled's Facebook group!
Want to see all your paint options in one convenient place? Click here to get everything you need to start painting, including Sherwin Williams and Benjamin Moore paint color decks!