Cream paint colors are beautiful, elegant paint shades that make a room feel warm and bright. They straddle the line between off-white and yellow, making them a warm neutral.
While cream paint colors have a good blend of yellow and white in them, a true cream paint color isn't so yellow that it looks yellow on your walls. But, it has enough yellow in it that it doesn't look white or beige.
Cream paint colors are great for someone who wants a paint color that is warm and inviting. They tend to be traditional or formal in nature, but can also accent farmhouse or french country style homes.
Keep reading for all the details on my picks for the top cream paint colors! But first…
This post may contain affiliate links. If you have any questions, please see my disclaimer page.
What color goes with cream paint?
Cream paint colors tend to go well with the following colors:
warm, reddish browns
earthy, rust colored reds and oranges
cool grays
black
soft purples
cool blues
muted greens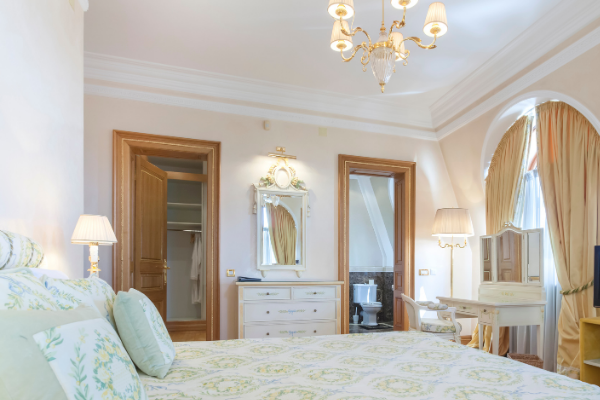 While you would never pair all these colors together in one room, a cream color scheme might be one that includes cream, black, reds and browns.
Alternatively, you could pair cream with cool blues and greens that will help balance out the warmth of the cream paint.
Cream also works nicely when included in a more monochromatic color scheme, such as these cream colored cabinets that are paired with a neutral subway tile, a wood floor and mixed metal accents.
Cream colored walls can go with white or wood trim.
For metal accents, cream walls look amazing with black, gold or bronze fixtures, knobs and pulls. I don't prefer cream colored walls or cabinets with brushed nickel accents, but you will find that people pair them together as well.
Where Can I Use Cream Paint?
Cream paint can be used in all sorts of places. It is perfect on walls, on cabinets, on home exteriors, on built-ins, and can even be used on ceilings.
Because cream colored walls are so light, you can use this paint color in any room of the house. Depending on the furnishings and accessories in the room, cream walls will give a space an elegant, sophisticated or subdued look.
In south facing rooms, cream paint colors are going to show even more of their yellow tones. This is important to note, because if you want a soft paint color that doesn't look yellow, and you have south facing rooms, you definitely want to steer away from some of the more yellows on this list (and maybe from the whole list!).
The Best Cream Paint Colors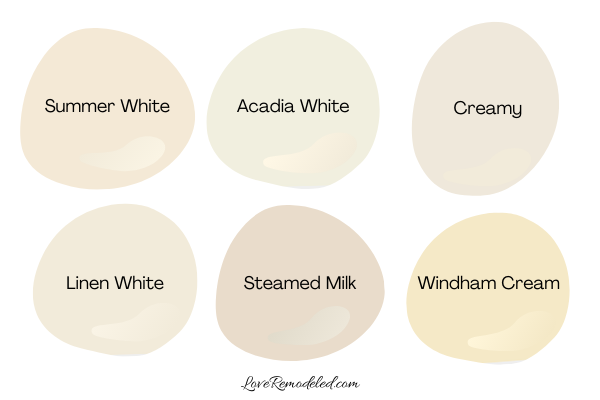 Benjamin Moore Acadia White
Sherwin Williams Steamed Milk
Benjamin Moore Windham Cream
Sherwin Williams Summer White
Benjamin Moore Linen White
Sherwin Williams Creamy
Acadia White
Benjamin Moore Acadia White is a very pale cream colored paint. It is a part of Benjamin Moore's Off-White Collection. This means that it is a really light shade. Acadia White has just enough yellow in it to give it a real creamy look, but not so much that it should look especially yellow on your walls.
Acadia White has an LRV (Light Reflectance Value) of 83. This means that it is going to reflect a lot of light back into the room. Because it has such a high LRV, Benjamin Moore's Acadia White should work in spaces with a lot of bright light, or in spaces that have less natural and artificial light.
I find that Acadia White looks particularly sophisticated on your walls. It is a really pretty shade that is both classic and classy.
Steamed Milk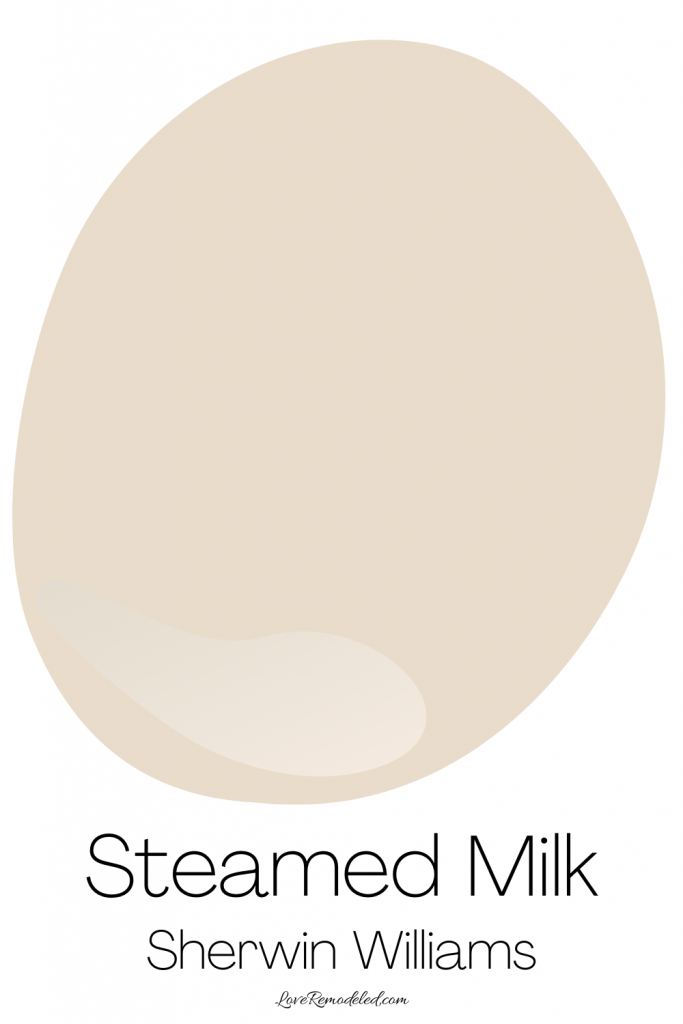 Sherwin Williams Steamed Milk is beautiful cream paint color. In addition to having yellow undertones, it also carries a bit of orange in it. This orange keeps Steamed Milk from looking too sunny.
Steamed Milk has an LRV of 76, which makes it one of the darker creams on this list. Depending on your lighting, Steamed Milk can vary in its appearance. In some lights, Steamed Milk can look almost like a light beige. In others, it will appear like a soft yellow.
In order to ensure you love how this paint color (or any paint color) looks in your home, be sure to pick up some samples or Samplize sheets – more on that later.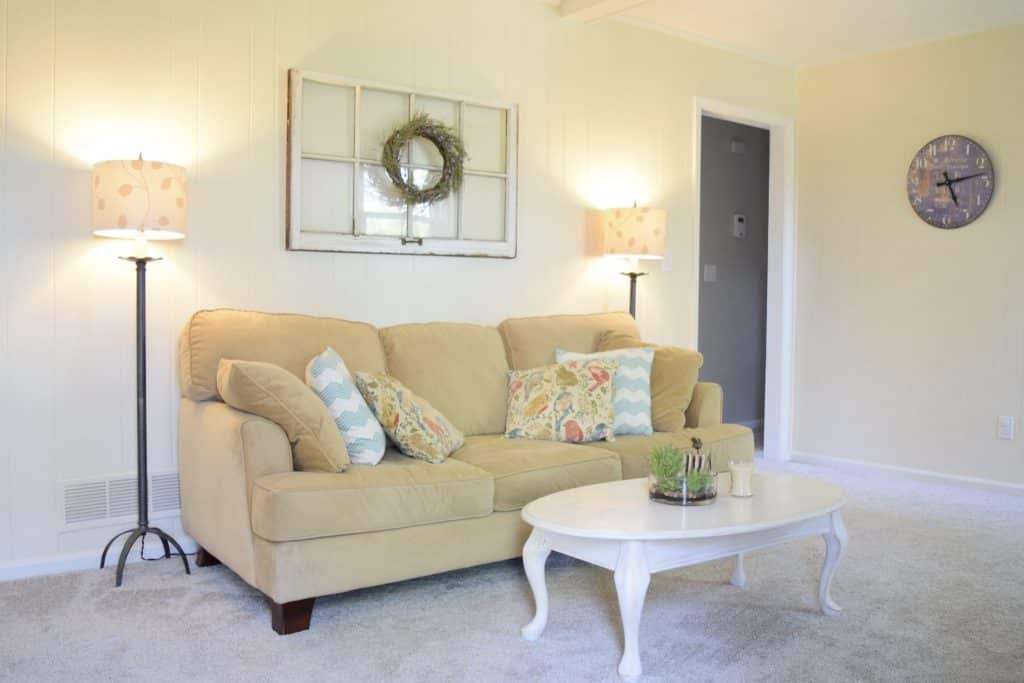 Windham Cream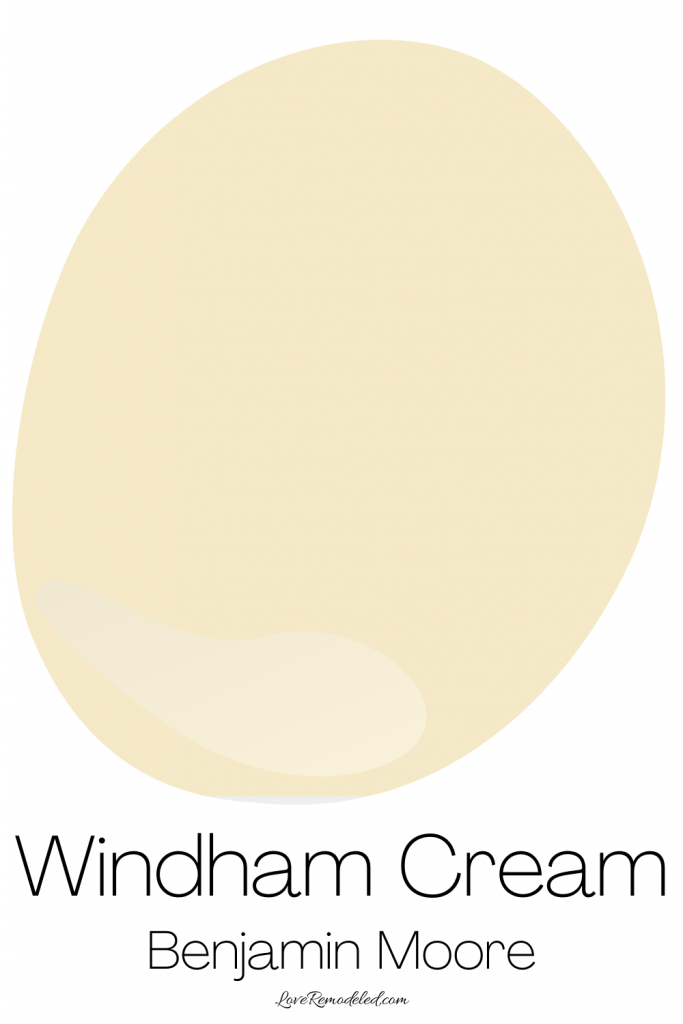 Windham Cream is a cream paint color that almost crosses over to yellow. It is included in Benjamin Moore's "Favorites" collection, so you know that it is popular. It is also one of Benjamin Moore's Historical colors.
Windham Cream is the most yellow cream on this list. It also carries a bit of an orange undertone that makes it very warm but prevents it from being sunny looking. It reminds me of the the color of butter.
Because Windham Cream has so much yellow in its mix, it feels a bit less sophisticated to me than the others. In fact, it can come off as reminiscent of a cottage, or almost playful.
With an LRV of 80, Windham Cream isn't the darkest cream paint color on this list, but it is close.
Windham Cream looks gorgeous with muted cool colors, such as blues and greens. You can also pair it with browns and other neutrals.
Summer White
Summer White, by Sherwin Williams is a warm cream paint color that has a lot of yellow in it. In fact, when you compare Summer White to Creamy, Creamy almost looks white! This is because the yellow in Summer White is so much more prominent than it is in Creamy.
Summer White has a bit more color to it than some of the other creams on this list. It has an LRV of 83, which makes it on the lighter end of the paint colors on this list.
It would be a great paint color for a nursery, a dining room, or even a kitchen.
Linen White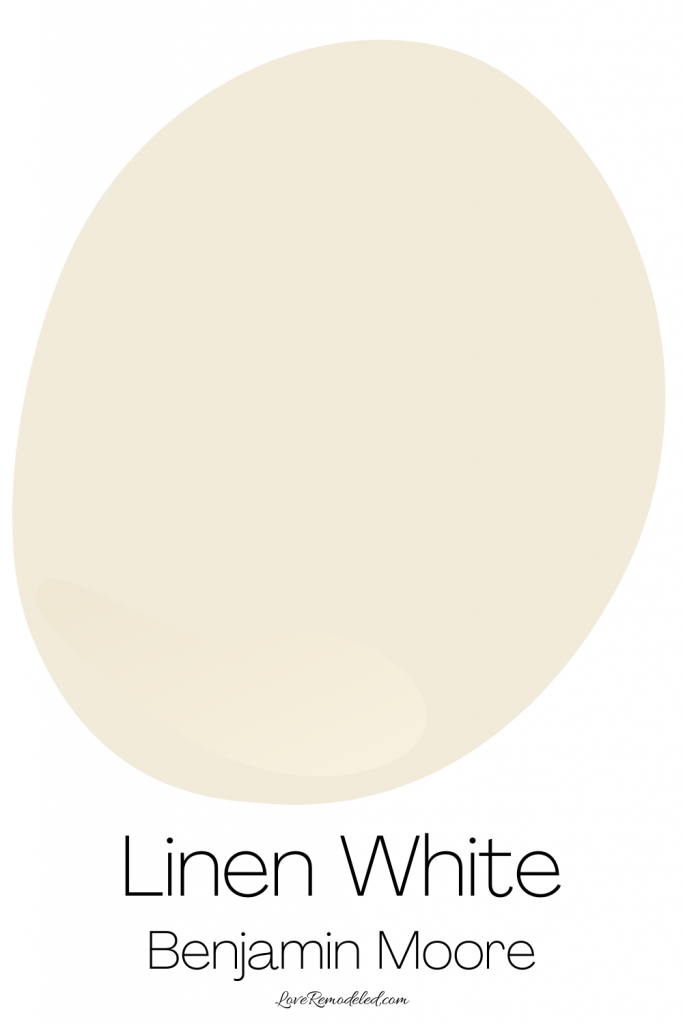 Linen White, by Benjamin Moore, is a delicate, creamy off-white paint color. It has yellow undertones and just a hint of orange in it. This can make it feel particularly warm on your walls.
In a south facing room, Linen White may even look yellow, instead of like a cream paint color. Because of this, it may be better suited for a north facing room that has cooler toned light.
Linen White has an LRV of 83, which makes it tied with Acadian White for the lightest colors on this list.
If you're looking for a really light cream paint color with a bit more color in it, Linen White might be a good choice for you. But, if you want a light cream paint color that just hedges towards a creamy shade, Acadia White is a better bet.
Creamy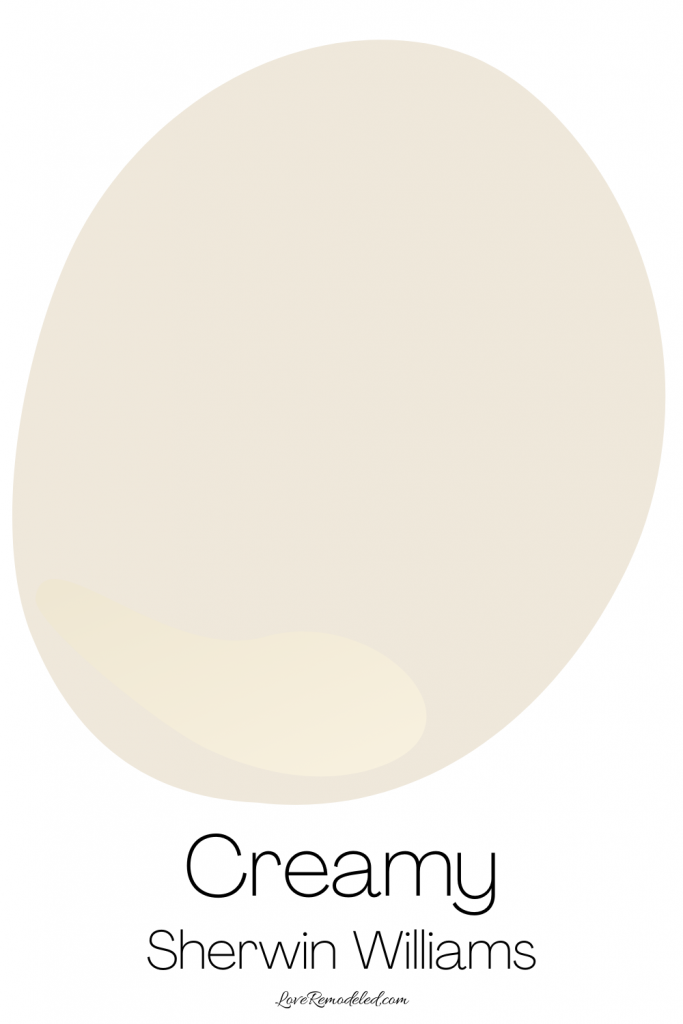 Creamy is a very classy paint color by Sherwin Williams. It ranks as one of Sherwin William's most popular paint colors, and for good reason. Creamy is soft and warm without being too terribly yellow. It feels refined, but not stuffy.
Creamy has an LRV of 81. It is one of the lighter cream paint colors on the list, and definitely can be classified as an off-white. Despite being light though, Creamy can hold its own next to white trim.
Of all the cream paint colors on this list, Creamy is likely the most popular. This is because it is a little more muted than the other shades, and has less yellow in it. If you're someone who doesn't mind a bit of yellow, you may be happy with any color on the list. But, if you want a cream paint color that is a little more subtle, Creamy is a good choice.
Creamy is a great cream paint color for anywhere in the house.
What is the Best Cream Colored Paint?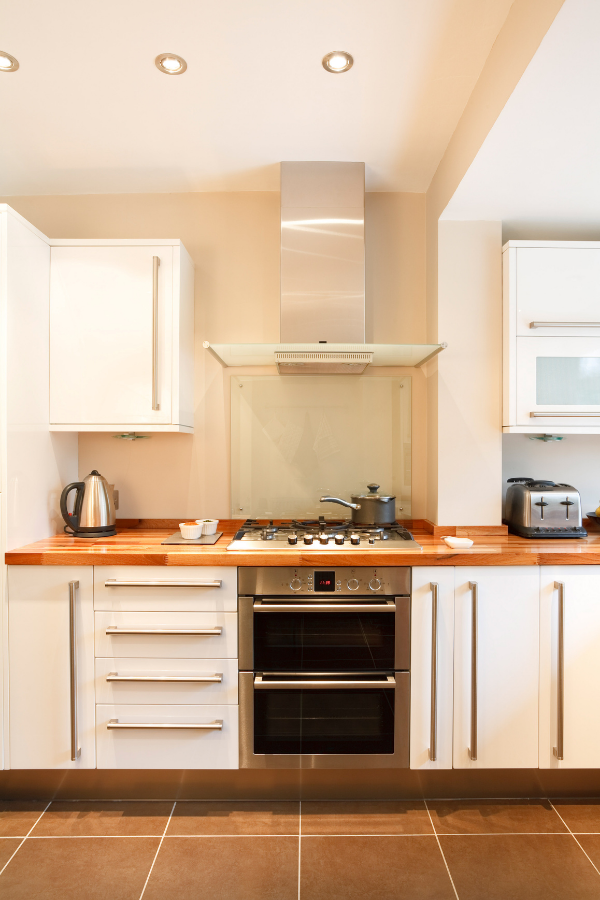 The best cream colored paint is going to be the one that works best in your home. If you have cooler light, you can afford to pick a cream with more yellow in it. But, if you have southern, warmer light coming into your space, you may want to choose a cream that is a bit more neutral, such as Creamy.
In addition, consider your furnishings and the other shades in the room. Cooler colors, such as blues and greens, are going to accentuate the yellow in your cream paint. Warmer shades, like reds and oranges, are going to tone the cream walls down a bit.
So, the best cream paint color for you is going to completely depend on your preferences, your space, your furnishings, your accent colors and your lighting.
My Pick for the Best Warm Cream Paint Color
If I were going to pick one paint color as the best warm cream I would probably go with Creamy. Creamy is warm without being too yellow, and has just enough gray in it to look like a refined, mature cream paint without looking gray at all.
Colors that Go With Cream Paint
If you're asking yourself, "What color goes with cream?," you're in luck. Cream goes well with a lot of different colors.
Specifically, cream looks amazing with navy blue, light blue, blue-greens, sage green, greiges, browns, reds and pinks.
Cream also looks great when layered with other whites and off-whites with similar undertones. This monochromatic aesthetic gives a soft, pleasant aesthetic.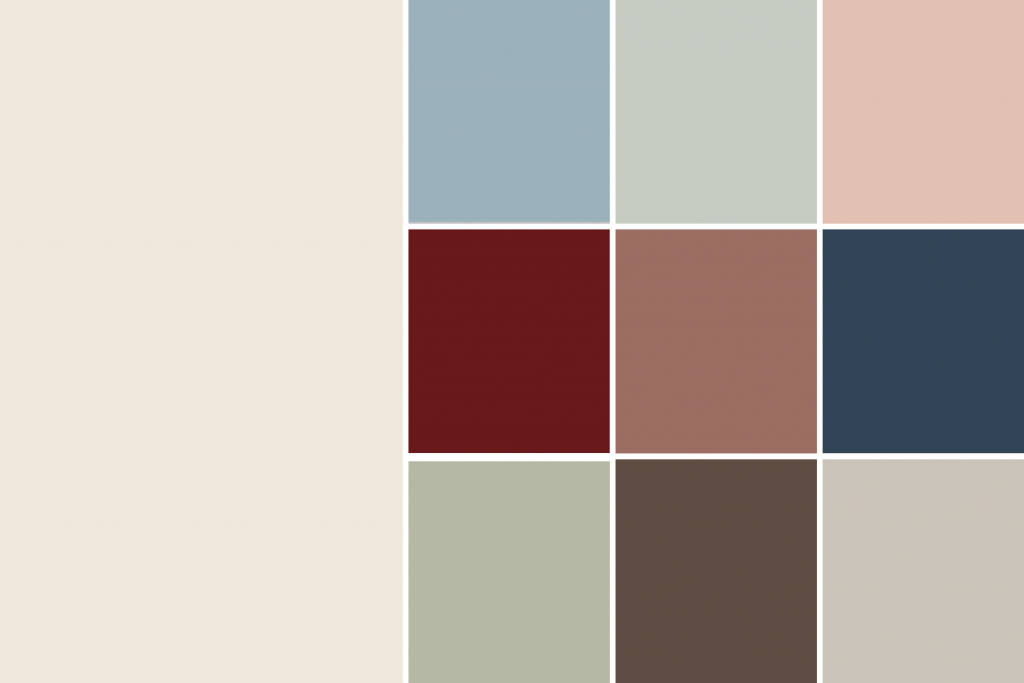 Wondering How To Pick the Perfect Paint Color?
I have the best solution for you!
Samplize sells 9×14.75 stick-on paint sheets in almost every paint color.
These no-mess, peel and stick sheets are made from real paint, so they will show you exactly what the paint color will look like.
Simply place them on your walls next to your trim, furnishings or fixed elements, and easily see which paint color works best in your space and with your lighting.
Then, peel the sheet off your wall and reapply it somewhere else if you like. You can try several different paint colors with no mess, no fuss and no cleaning paint brushes.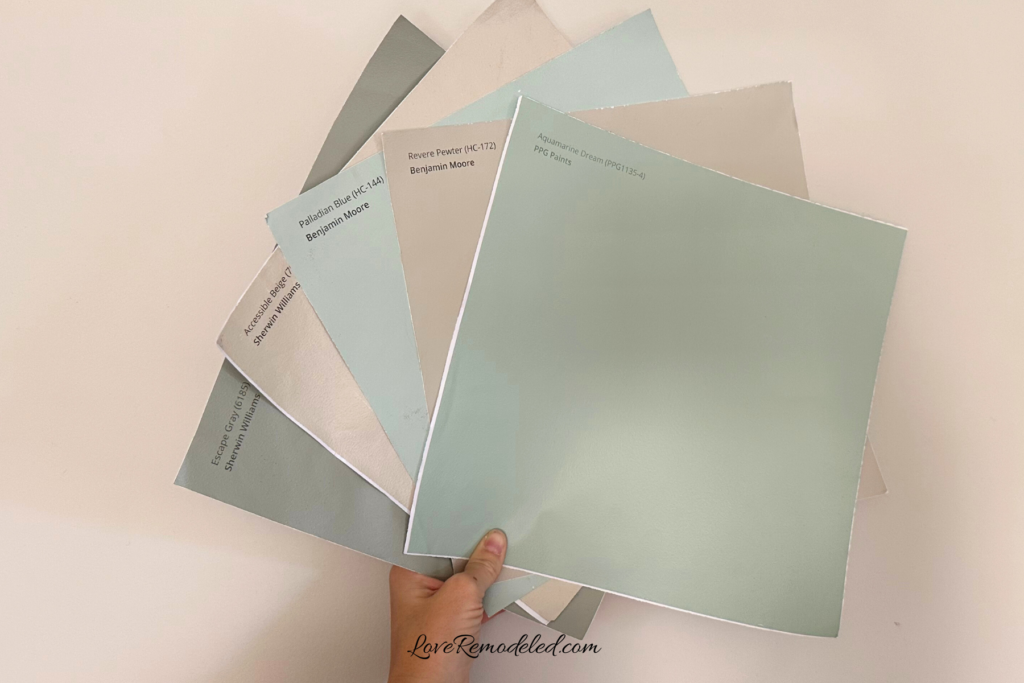 Oh, and you can have them in your home by tomorrow with OVERNIGHT shipping!
As a bonus, be sure to use the code LoveRemodeled10 at check out to get an extra 10% off! Samplize sheets are cheaper than a sample can of paint, and way less work.
They are the easiest (and fastest!) way to try a paint color in your home, with no hassle.
Final Thoughts on Cream Paint Colors
A cream paint color does a great job at warming up a space, giving it a soft and welcoming glow, and creating a traditional vibe in a room.
If you are looking for a paint color that is sophisticated but not stuffy, check out one of the cream paint colors on this list!
Want to see all your paint options in one convenient place? Click here to get everything you need to start painting, including Sherwin Williams and Benjamin Moore paint color decks!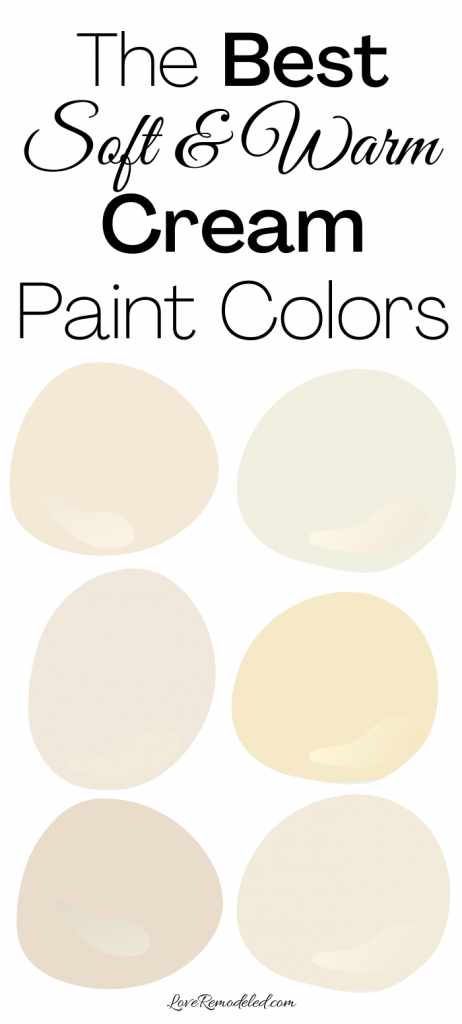 Have a question or want to show off your project? Join the discussion in Love Remodeled's Facebook group!