Choosing the right paint color for a room can be really difficult.
Frequently, people make the mistake of painting their rooms a popular color because they like how it looks on Pinterest.
While this can be a great way to choose a paint shade, there are a few other things that you need to consider before you start painting.
Let's take a few minutes to discuss what to consider when choosing a paint color.
Consider the Mood
When you're choosing a paint color for a room, it is important to consider the type of mood you want the room to have.
Are you looking to make the space cozy? Warm shades, such as greiges, tans, or taupes will make a space feel warm and inviting.
Do you want to create a space that feels soothing? Blue and blue-green paint colors are great for inducing feelings of comfort and relaxation.
Do you want the space to feel dramatic and moody? Dark, saturated paint colors can do this.
Do you want a blue, green, pink or purple color that feels mature and sophisticated? Be sure it has some gray in it. This can help to take away any juvenile feeling that the paint color gives off.
Do you want a space that feels clean and airy? Whites, off-whites and gray paint colors can give this sort of look.
Additionally, take into consideration whether you are more drawn to warm and cool colors.
Blues, greens, and bluer purples are cool colors. Cool colors make a room feel expansive and relaxing.
Reds, oranges, yellows and reddish purples are warm colors. Warm colors make a room feel energetic and bring the walls towards your eyes.
Overall, considering the mood you want the room to have will help you decide what way to go with your paint color choice.
Consider the Lighting
One thing that people can forget when choosing a paint color is to consider how much light is in a room.
A room with limited light will make a medium or dark paint color look less vibrant.
By contrast, a really bright room can make a light paint color look washed out.
If a room has adequate lighting though, a good rule of thumb is to choose a paint color with an LRV (Light Reflectance Value) in the 70s.
Paint colors in this range tend to have just the right amount of weight on walls without being too imposing.
Every paint color has an LRV number attached to it.
To find a paint color's LRV, you can either look on the paint manufacturers' website, or look at the back of the color swatch you pick up from the paint store.
Consider the Fixed Elements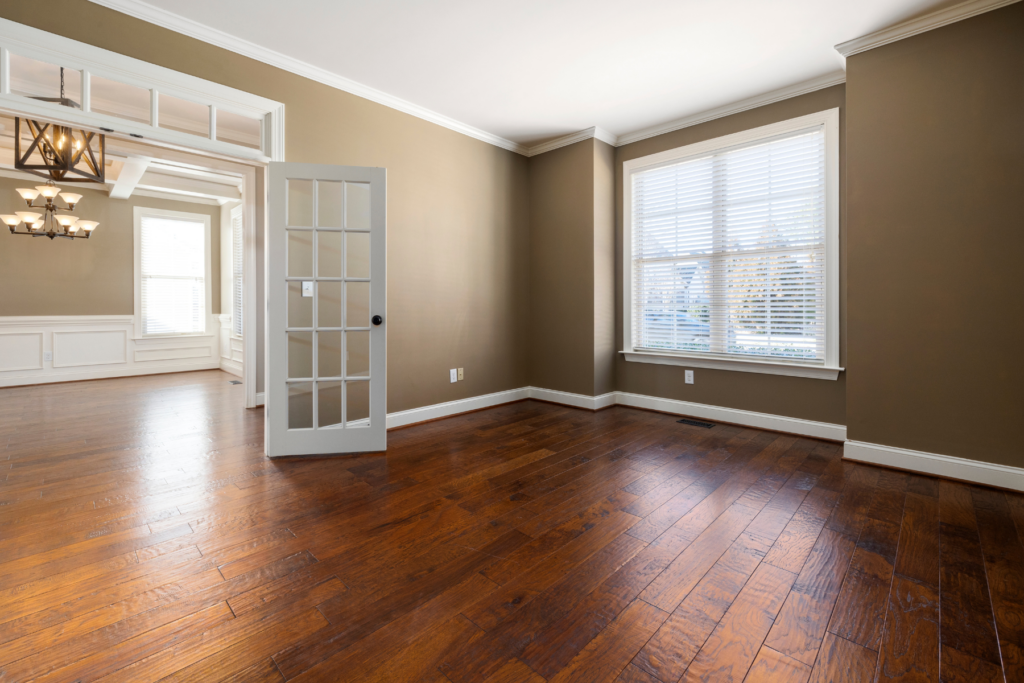 Every room has some fixed elements that you need to work around.
This could be the fireplace stone color, the floor tile color, the type of metal on the light fixtures or the shade of trim.
All of these fixed elements need to coordinate with the wall color that you choose.
For example, in the picture above, the warm red floor does not coordinate well with the greenish brown wall. Together, the wall color and floor color sort of make you cringe.
Instead, a warm white wall would compliment the warmth in the floors, creating a cohesive look.
Consider Your Preferences
Be sure to choose a paint color that you like.
If you follow trends just because they are popular, you'll likely end up wanting to change your paint color more often than if you choose a paint shade because you love it.
If you have always loved blues, go with a blue, even if it isn't the "in" color right now. Same with greens, pinks, purples, and yellows.
Choosing a paint color you love will mean it will always make you happy.
Now, that being said, just because you love a color doesn't mean that it will be a great color for your walls.
After thinking about what colors you really love, consider whether your favorite colors are better for the walls or as an accent color.
Accent colors can be use on soft elements like pillows, curtains, and blankets. You can also paint just one wall in your favorite color, and do the surrounding walls in a coordinating neutral.
Lighter colors tend to be better on walls, while more vibrant shades do better as accents.
Consider Current Trends
Current trends are the last consideration you should think about when choosing a paint color. But, current trends are still important.
Current trends inform us about what sorts of colors are popular in home design, fashion and more. Here is why it matters.
The more we see trendy colors, the more the average person tends to like them.
So while all white walls may have seemed way too stark in 2020, by 2023 you may be thinking that they look amazing because you have seen them so much.
Your eye grows accustomed to things that it sees a lot of, and familiarity breeds likability in this situation.
Additionally, you want to consider current trends to know what not to paint your walls.
For example, you may love the color red, but red walls are really out of style right now.
Instead of painting your walls red, a better option would be to go with a neutral wall color that is always in style and decorate with reds in your furniture and soft elements.
This is especially critical if you anticipate that you'll be selling your house any time soon.
Current trends for 2023 are leaning towards warm whites, earthy greens, warm grays and maybe even some pinks.
For more specific information on what designers are predicting for 2023, check out this post on Sherwin Williams 2023 Color of the Year, or this post on Benjamin Moore's 2023 Color of the Year.
Final Thoughts on What To Consider When Choosing a Paint Color
Choosing a paint color for your home can be a daunting task, but hopefully this helps you narrow the field down a little bit.
Remember to consider the mood you want the room to have, what the lighting in the room is like, the fixed elements in the room, what colors you love, and the current trends for wall paint colors.