Wrought Iron is a popular Benjamin Moore dark neutral paint color that has a heavy dose of gray and blue in it.
It is a dark and smokey paint shade that works well on home exteriors, cabinets, accent walls, and doors.
Wrought Iron is one of Benjamin Moore's best selling paint colors. It was originally included in the Color Preview paint deck.
If you are looking for a dark bluish gray paint color, keep reading for all the details on Benjamin Moore Wrought Iron.
This post may contain affiliate links. If you have any questions, please see my disclaimer page.
What Color is Wrought Iron Paint, by Benjamin Moore?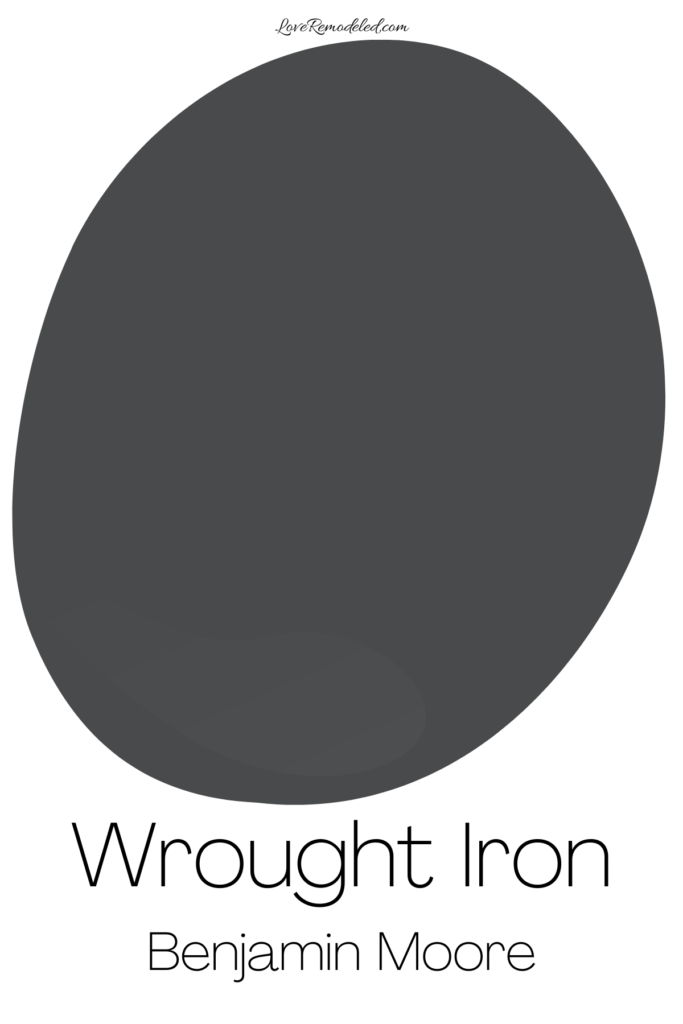 Wrought Iron is a very dark neutral paint color. It really is a paint color that straddles the line between blue and gray.
Benjamin Moore calls it, "A shade of black beloved for its relatively soft, malleable character."
In real life, some people would consider it a blue, while others would say that it is a gray.
This dark shade has a ton of navy charcoal in it. In brighter lights, it'll look more navy. In dimmer lighting, you'll see a lot more gray in it.
Compared to other navy blue paint colors, Wrought Iron looks a little softer because of the heavy gray in it. It is not at all a bright paint color. Wrought Iron is very neutral, despite having a lot of blue in it.
Wrought Iron Undertones
The easiest way to classify Wrought Iron is to say that it is a dark gray or soft black with blue undertones. It also has a hint of green in it, but you won't see this green too much.
Wrought Iron LRV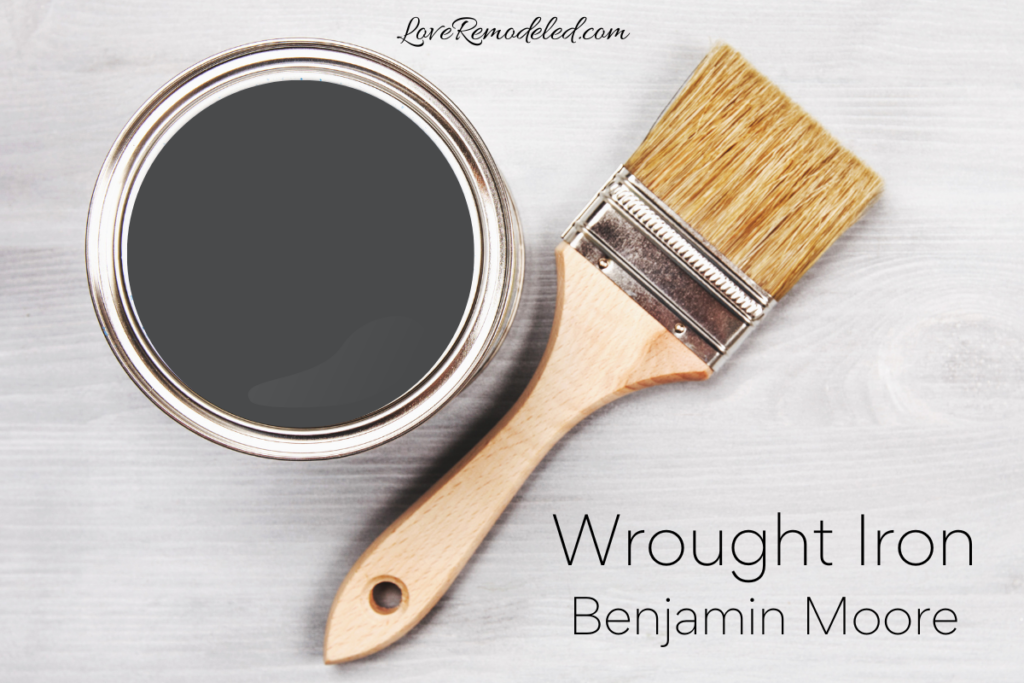 Wrought Iron has an LRV of 8.
LRV stands for Light Reflectance Value. It is a number on a scale of 0-100. A value of 0 means that a color is completely black. A value of 100 means that a color is completely white.
The LRV of a paint color gives us information about how light or dark a paint color looks in a room.
Additionally, it tells us how much light the paint color will reflect. The higher the number, the more light is reflected back into the room. The lower the number, the more light is absorbed by the paint color.
An LRV of 8 means that Wrought Iron is a very dark paint color. It absorbs most of the light that hits it.
This is important information to have about a paint color because it helps to make decisions about where to use it.
A room that is dark can handle a touch of Wrought Iron here and there, but you probably don't want to paint a whole wall in this paint color.
Is Wrought Iron Warm or Cool?
Since Wrought Iron has a lot of blue in it, it is a cool shade.
Cool paint colors are expansive, and tend to make the walls seems to recede into the background.
With the high level of dark gray in it, Wrought Iron is sort of like a murky abyss.
What Color Goes with Wrought Iron?
Wrought Iron works with whites, creams, yellows, beiges, cool grays, warm grays, oranges, blue greens, lighter blues, and pinks.
From this list of coordinating colors, you can see that Wrought Iron is a very versatile color.
For specific colors that Wrought Iron works well with, Benjamin Moore recommends two different paint color palettes.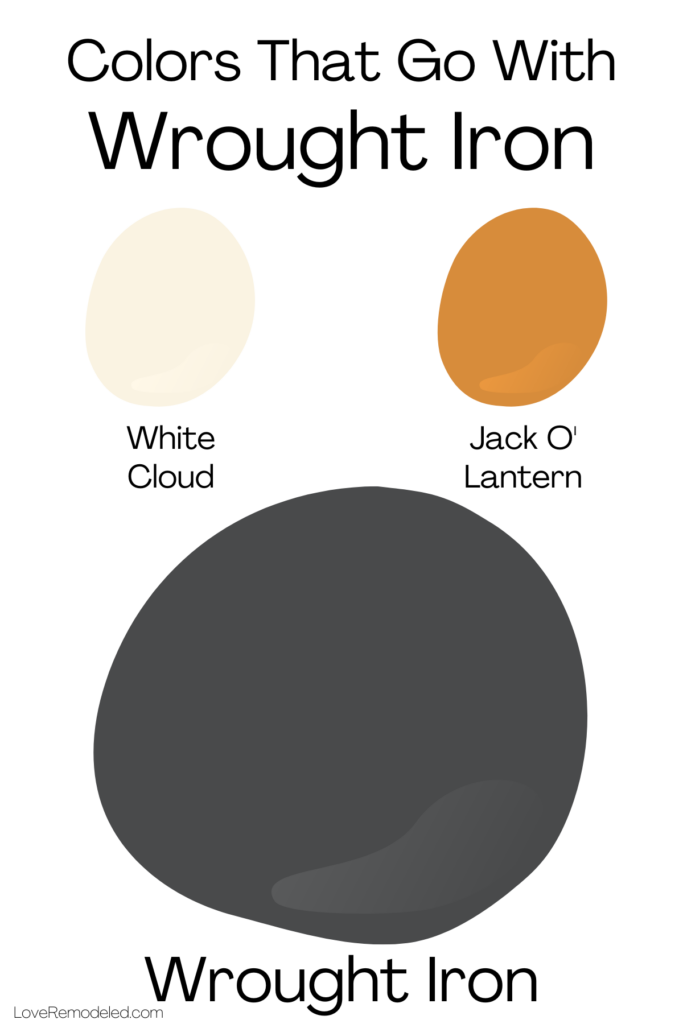 First, Wrought Iron goes with White Cloud, a creamy off-white, and Jack 0′ Lantern, a bright orange.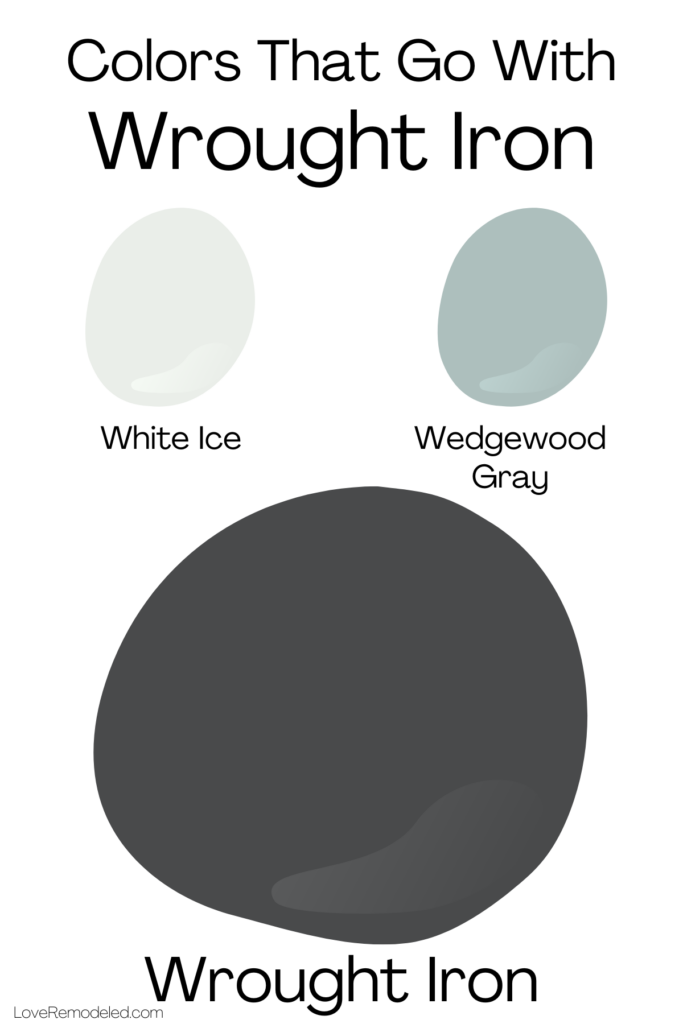 Second, Wrought Iron coordinates with White Ice, a grayish off-white, and Wedgewood Gray, a blue green gray paint color.
Trim Paint Colors for Wrought Iron
If you're looking for a trim paint color to go with Benjamin Moore Wrought Iron, check out Distant Gray and Chantilly Lace.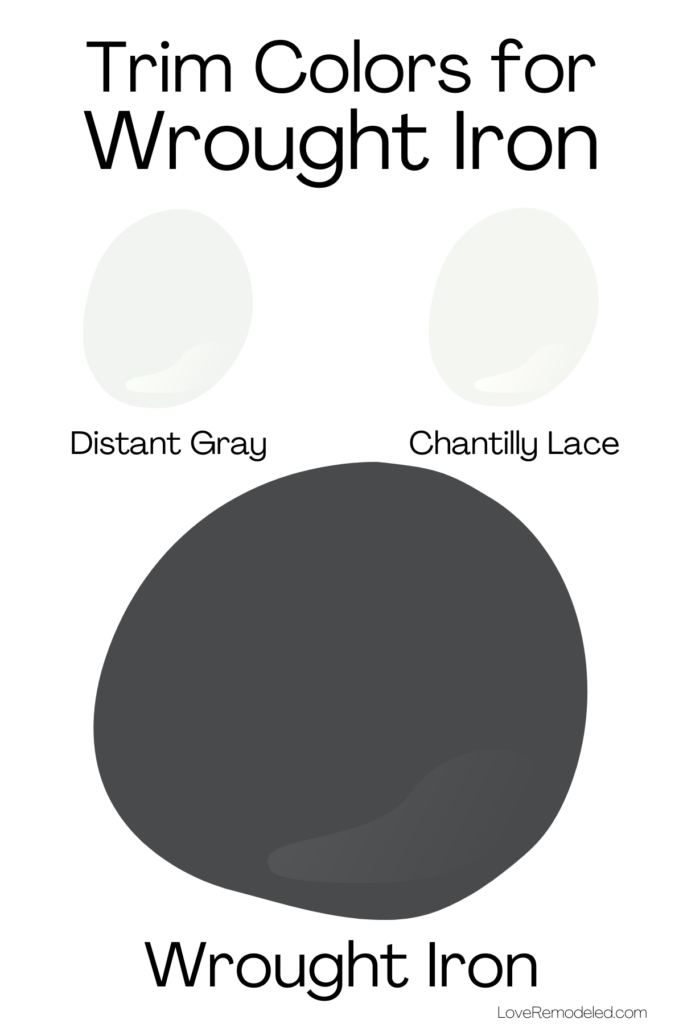 These two paint colors are popular shades for trim because they work with most other paint colors.
Distant Gray is a soft white paint color with gray and blue undertones. It still looks white, but isn't stark. Distant Gray actually shares a paint strip with Wrought Iron.
For colors in the Color Preview collection, this means that they are actually just lighter and darker versions of each other. So, Distant Gray and Wrought Iron are the same exact color, just the lightest version (Distant Gray) and darkest version (Wrought Iron) of that paint color.
Chantilly Lace is Benjamin Moore's lightest and brightest white paint color. It is almost undertone free, so it works with any paint color.
Wrought Iron is very dark though, and works with lots of white paint colors.
Where Can I Use Benjamin Moore Wrought Iron?
Wrought Iron is a perfect paint color to as an accent shade in your space.
Because it is so dark, I wouldn't necessarily recommend it for an entire room.
If you want a really dramatic, luxe look in your space, you certainly could use it in an entire room. But, Wrought Iron is very very dark, so it takes the right room to make it work.
Instead, Wrought Iron is best used as a pop of a dark of a neutral shade. This can help ground a space and provide a place for the eye to rest.
Wrought Iron is a great paint color for cabinets, doors, furniture, accent walls, and exteriors.
It looks amazing on shutters, exterior doors, railings, and more.
How Does Wrought Iron Compare to Other Paint Colors?
When I do a complete paint color review, I always like to compare the paint color I am discussing to other popular paint colors in the same color family.
So, let's look at Wrought Iron compared to Iron Ore, Soot and Kendall Charcoal.
Wrought Iron vs. Iron Ore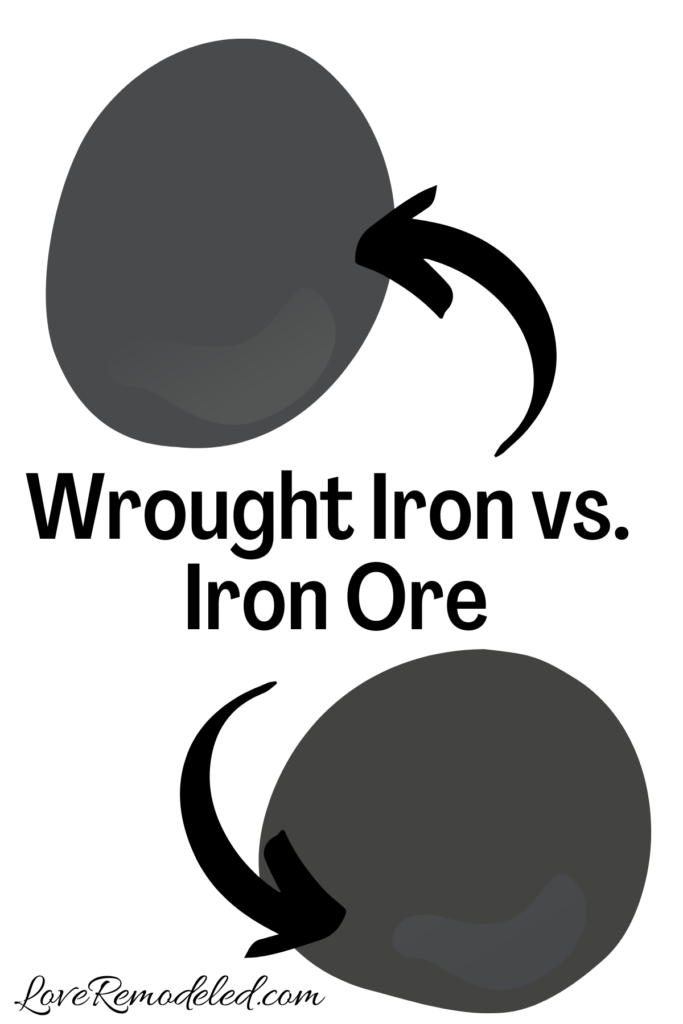 Iron Ore is a soft black paint color by Sherwin Williams. Like Wrought Iron, Iron Ore also has blue undertones.
But, when you compare the two, you see that Wrought Iron has a lot more blue in it than Iron Ore.
This is where you begin to see why some people consider Wrought Iron a navy paint color.
They have about the same depth and LRV.
If you're trying to decide between Wrought Iron and Iron Ore, consider whether you want a paint color that looks more black or blue.
Iron Ore is the more versatile color here. It will work with most any other paint color. Wrought Iron has that stronger bluer undertone to contend with.
Click here for more details on Iron Ore.
Wrought Iron vs. Soot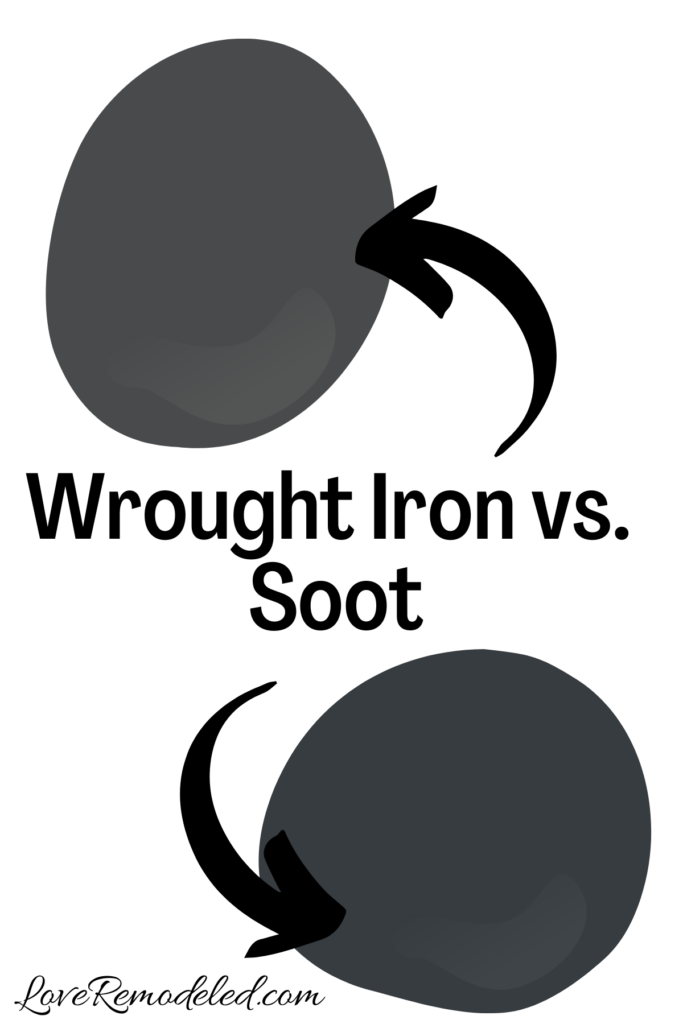 Soot is a dark navy paint color by Benjamin Moore. While it still has a lot black in it, it falls more easily into the navy category of paint colors.
Soot and Wrought Iron have similar LRVs and will reflect about the same amount of light, but Soot is a sharper paint color. By this, I mean that it doesn't have the same softness that Wrought Iron has.
This is because it has less gray in it.
When you compare Wrought Iron to Soot, Wrought Iron doesn't appear to have any blue in it, because the blue in Soot is so much more pronounced.
If you want a really dark navy, Soot is the go-to color here. But if you want a smokey charcoal that hints towards blue, Wrought Iron is the better pick.
Wrought Iron vs. Kendall Charcoal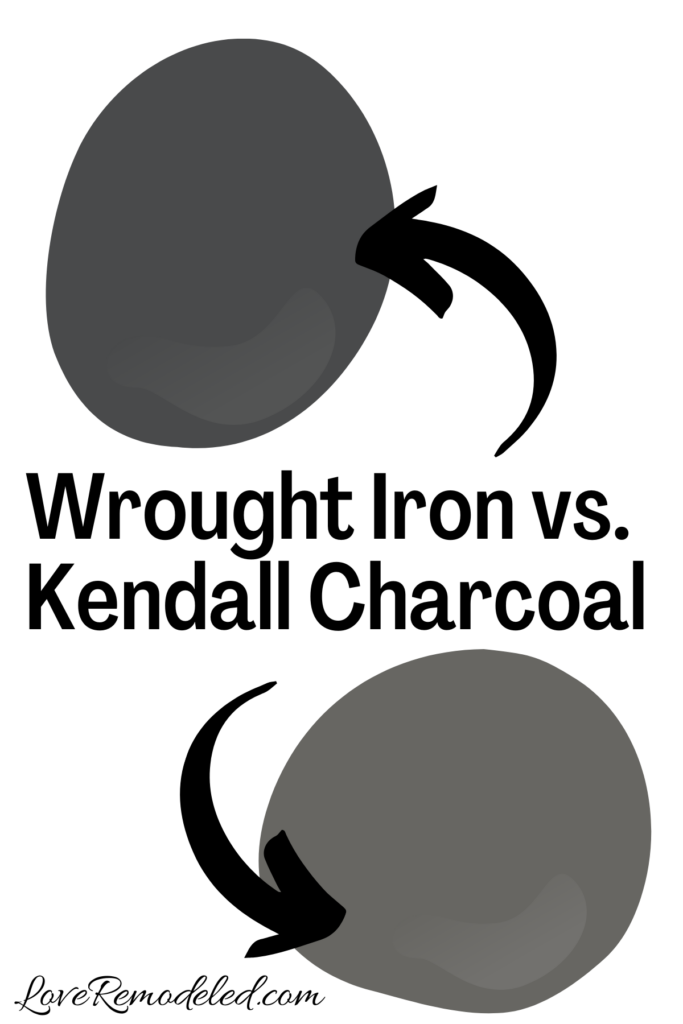 Kendall Charcoal is a dark gray paint color by Benjamin Moore. It isn't quite as dark as the other paint colors mentioned here though.
Kendall Charcoal is much more gray than Wrought Iron. Additionally, it is much softer.
Kendall Charcoal will look very dark if it is the darkest color in a room, but when you compare it to Wrought Iron, you see that it is a good bit lighter than it.
Kendall Charcoal doesn't have the blue that Wrought Iron does.
If you want a gray that is steely and hard, Wrought Iron is the better pick. If you like a dark gray that has some softness to it, go with Kendall Charcoal.
Click here for more details on Kendall Charcoal.
Wondering how to pick the perfect paint color?
I have the best solution for you!
Samplize sells 9×14.75 stick-on paint sheets in almost every paint color.
These no-mess, peel and stick sheets are made from real paint, so they will show you exactly what the paint color will look like.
Simply place them on your walls next to your trim, furnishings or fixed elements, and easily see whether the paint colors work in your space and with your lighting. Then, peel the sheet right off your wall and reapply it somewhere else if you like!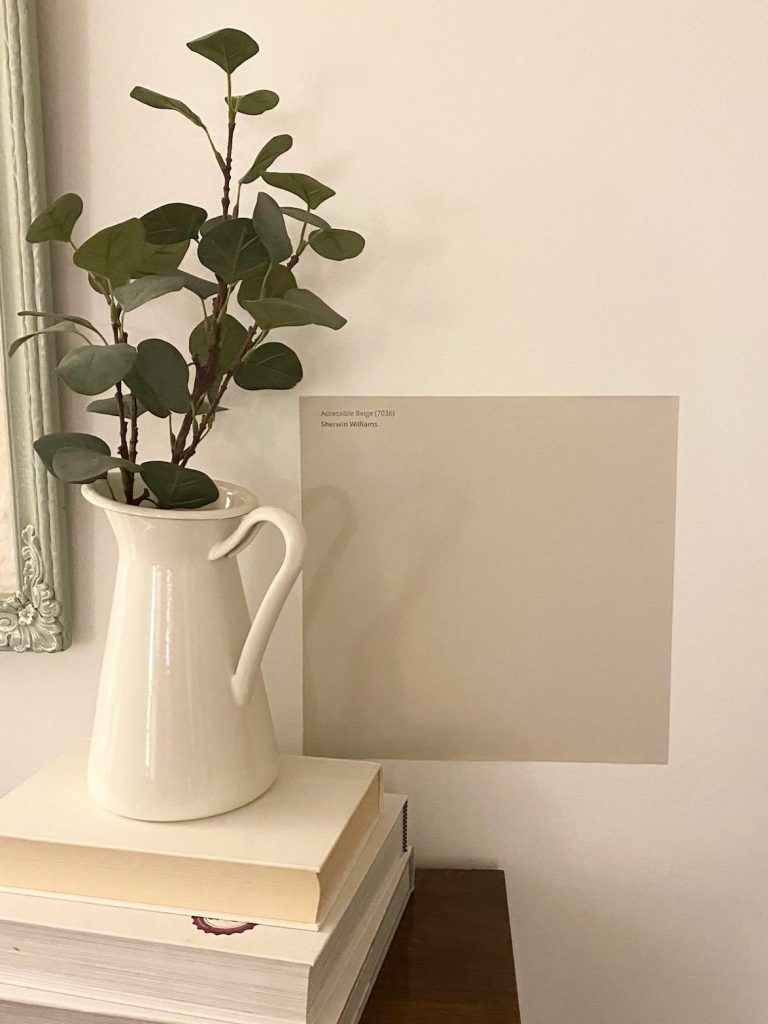 Oh, and you can have them in your home by tomorrow with OVERNIGHT shipping!
As a little tip, if you enter your email, you'll get $5 off your first order! Samplize sheets cheaper than a sample can of paint, and way less work!
Samplize sheets are truly the easiest (and fastest!) way to try a paint color in your home, with no mess.
Final Thoughts on Benjamin Moore Wrought Iron
Wrought Iron is Benjamin Moore's most popular soft black paint color. With a lot of blue, you'll find that Wrought Iron can look blue in some lights, and charcoal black in others.
If you are looking for a smokey navy blue paint color for your space, Wrought Iron should be on your short list!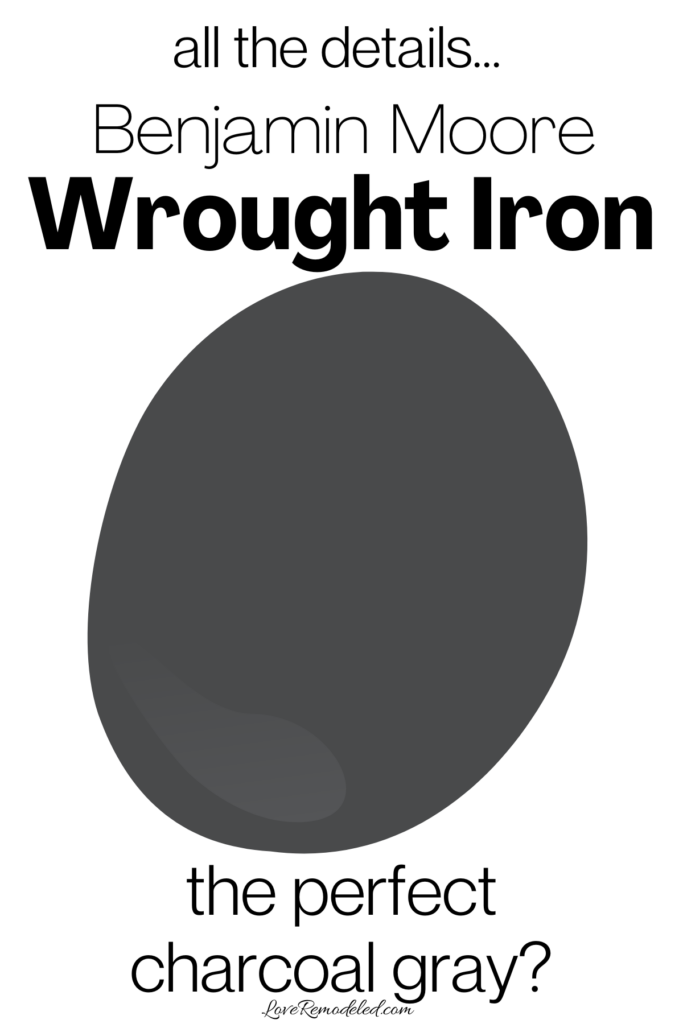 Want to see all your paint options in one convenient place? Click here to get everything you need to start painting, including Sherwin Williams and Benjamin Moore paint color decks!