Choosing the right white paint color for your home can be a headache, but it doesn't have to be.
White paint is both a new and old obsession. People have always been in the pursuit of the perfect white paint that doesn't look too cool, feeling stark and chilly, or too warm, coming off as almost a cream or yellow color.
But recently, white paint has become an even bigger player in home decor.
This post may contain affiliate links. If you have any questions, please see my disclaimer page.
How to Use White Paint in a Home
Prior to the last few years, white paint was commonly used on trim, doors, ceilings, and exteriors, while walls were given a pop of color. The white in homes was used as a way to accent other colors in the space.
White paint was not the focus, but the thing that defined the focus of the room by emphasizing the walls.
More recently though, we are seeing designers and homeowners choose white paints for their walls with increasing frequency.
This is, in part, due to a shift in home decor styles that is trending towards a Scandinavian look, and also due to the growing movement towards minimalism. White is the ultimate lack of color, leaving an entirely blank slate to work from. This serves people's desire for less clutter, less busyness and more clarity.
To use white effectively in a house is to employ it in a way that looks clean, without looking boring.
One way to do this is to introduce different textures in the room. For instance, hard shiny white surfaces paired with soft white textiles provides a bit of visual interest in the space.
Additionally, you can layer different shades of whites to still have that all-white look without creating a space that is dull.
How to Choose White Paint
At first glance, choosing a white paint may seem easy. White paint is white paint, right?
Unfortunately, it is not often not that easy.
Consider the Undertones of the White Paint
Almost all white paint colors have an undertone, that can include yellow, pink, gray, blue, purple and more.
The undertone in a white paint may not be evident at first glance on a paint swatch, but when you paint a whole room in that white, you may end up with a room that actually looks pink or blue or yellow.
The best way to determine what sort of undertone a white paint has is to compare it to a different white paint color. Some good options to compare white paints to are Sherwin Williams High Reflective White, Benjamin Moore Chantilly Lace, and Behr Ultra Pure White.
These specific whites are very clean and almost undertone free. When you compare other white paint colors to them, the comparison colors will look more like their undertones.
Consider the Tones in the Room
The next thing to consider are the tones in a room.
If most of the colors in a space are cool, you may want to go with a cool white paint color. Cool white paint colors have blue, green or (some) purple undertones.
If most of the colors in the space are warm, you may want to go with a warm white paint color. Warm white paint colors have red, orange, yellow and (some) purple undertones.
Matching the undertone of your white paint with the undertones in the room will provide a more cohesive look.
For all of this to work though, you also need to view the shade in the light where you will be using it, not just in the paint store. This is one area where it is very important to get samples of the paint to make sure it looks exactly how you want to it to before painting your walls.
Consider the Lighting in the Room
When choosing a white paint for a room, it is also important to consider the lighting.
For example, a northern-facing room will get very cool, blue-toned natural light. If you were to use a cool white paint in that room, you would likely end up with a space that would feel icy, instead of welcoming.
Conversely, if you chose a white paint that leans towards the warmer side of white, you would end up balancing out the cool light with the warmth of the paint. This would help in achieving the perfect white painted room that everyone is looking for.
In a southern-facing room, a warm white will look even warmer. It may even look yellow when the sun is shining brightly. To balance that warm light, it is better to use cool white paint.
Decide Whether You Want a True White Paint or an Off White Paint
The last consideration to make when choosing a white paint is to decide whether you want a true white or an off-white.
A true white paint color is one that has almost no other colors in it. It just looks white. Some examples of true white paint colors are High Reflective White, Chantilly Lace, and Ultra Pure White.
I would also include paint colors like Pure White, Super White and Simply White, even though they have a bit more color in them than the earlier white shades I mentioned.
When you add even more color than that, you get into the off-white category of white paint colors.
Some examples of off-white paint colors are Snowbound, White Dove, Swiss Coffee, Pale Oak, Aesthetic White, and on and on.
True white paint colors give a very crisp, white look to a space. With the right decor, a true white paint color on your walls looks amazing. Very modern and updated.
Off-white paint colors have a more classic look on your walls. They look like soft neutrals.
Whether you choose a white or an off white paint color will depend on if you want that crisp, clean look, or a softer, more muted look.
Wondering how to pick the perfect paint color?
I have the best solution for you!
Samplize sells 9×14.75 stick-on paint sheets in almost every paint color.
These no-mess, peel and stick sheets are made from real paint, so they will show you exactly what the paint color will look like.
Simply place them on your walls next to your trim, furnishings or fixed elements, and easily see whether the paint colors work in your space and with your lighting. Then, peel the sheet right off your wall and reapply it somewhere else if you like!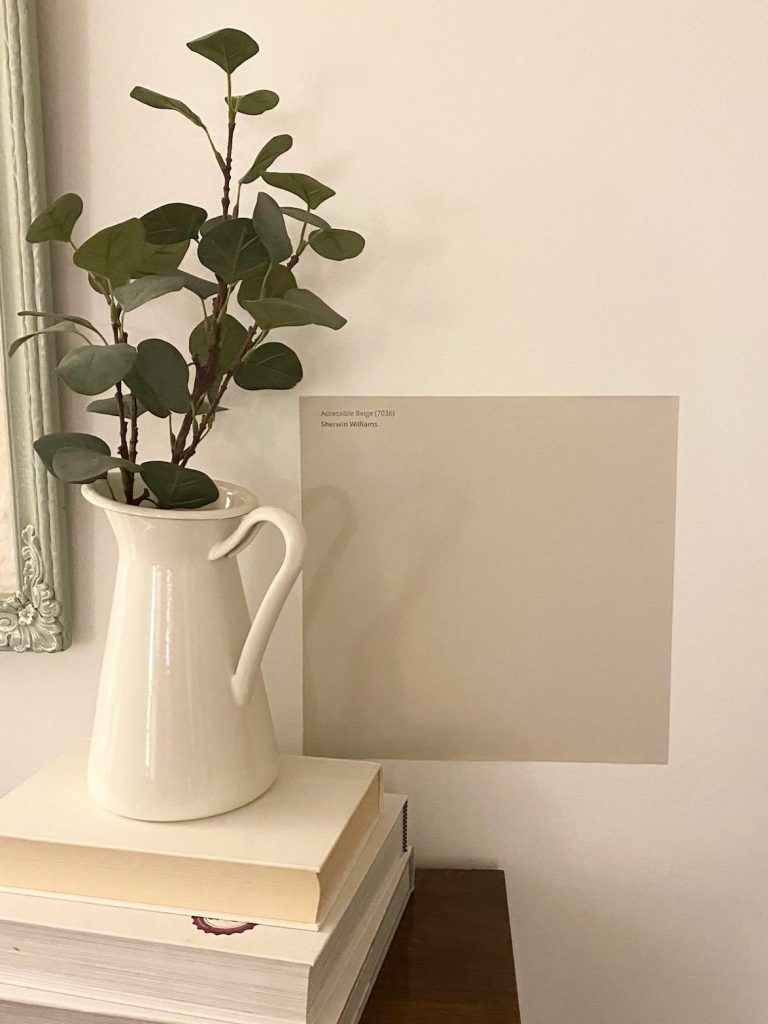 Oh, and you can have them in your home by tomorrow with OVERNIGHT shipping!
As a little tip, if you enter your email, you'll get $5 off your first order! Samplize sheets cheaper than a sample can of paint, and way less work!
Samplize sheets are truly the easiest (and fastest!) way to try a paint color in your home, with no mess.
Final Thoughts on Picking a White Paint Color
Choosing a white paint color is difficult, until you have a little bit of guidance. Now that you know what things to consider when picking a white paint color, the choice will be much easier.
Remember to think about the tones in the room and make sure they coordinate with the undertones in your white paint, decide what you want the mood of the room to be like and match that with choosing either a warm or cool white paint color, consider the lighting in the room and make sure you view the white paint color in your actual lighting (at different points of the day), and decide between a true white and an off white paint color.
These tips will help you narrow down the endless list of white paint colors for your home. And, if you need a little more help, check out my picks for the best white paint colors from Sherwin Williams, and the best white paint colors by Benjamin Moore.
Want to see all your paint options in one convenient place? Click here to get everything you need to start painting, including Sherwin Williams and Benjamin Moore paint color decks!
Have a question or want to show off your project? Join the discussion in Love Remodeled's Facebook group!
Need some help picking a paint color?
Pick up my 40+ page e-book, containing 30 of the hottest shades for 2022. These paint colors have been specially selected to help you choose from colors that are in style, and teaches you how to use them in your house!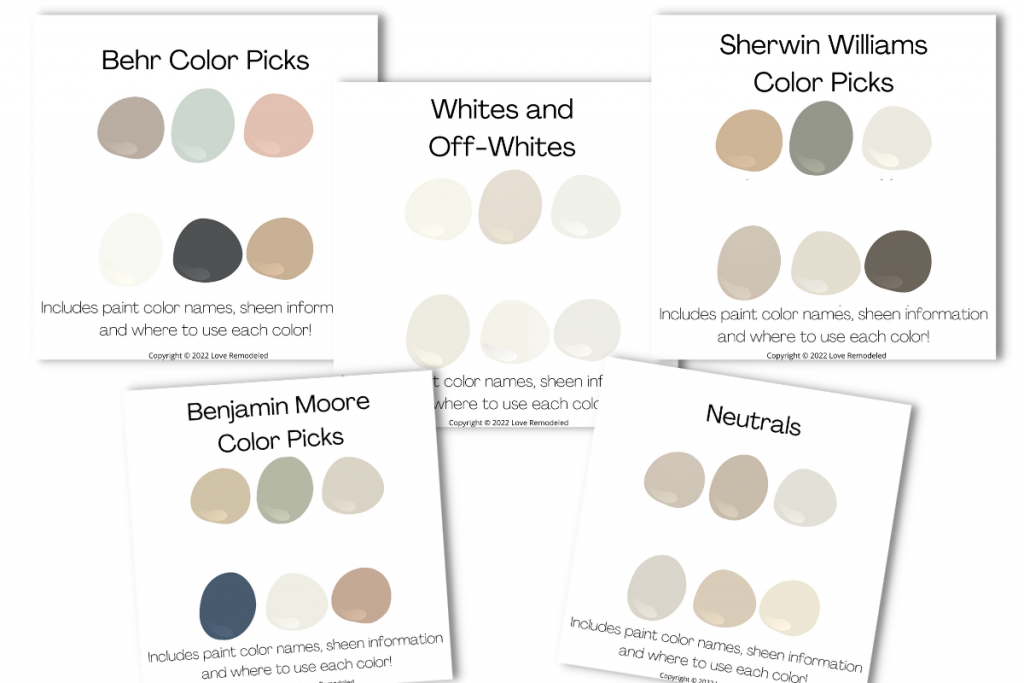 This 40+ page ebook contains:
a curated Sherwin Williams paint color palette
a curated Benjamin Moore paint color palette
a curated Behr paint color palette
the best white paint colors for 2022
the best neutral paint colors for 2022
PLUS a bonus section with my best painting tips!
Hurry! The 2022 Paint Color Palettes e-book is over 30% off right now!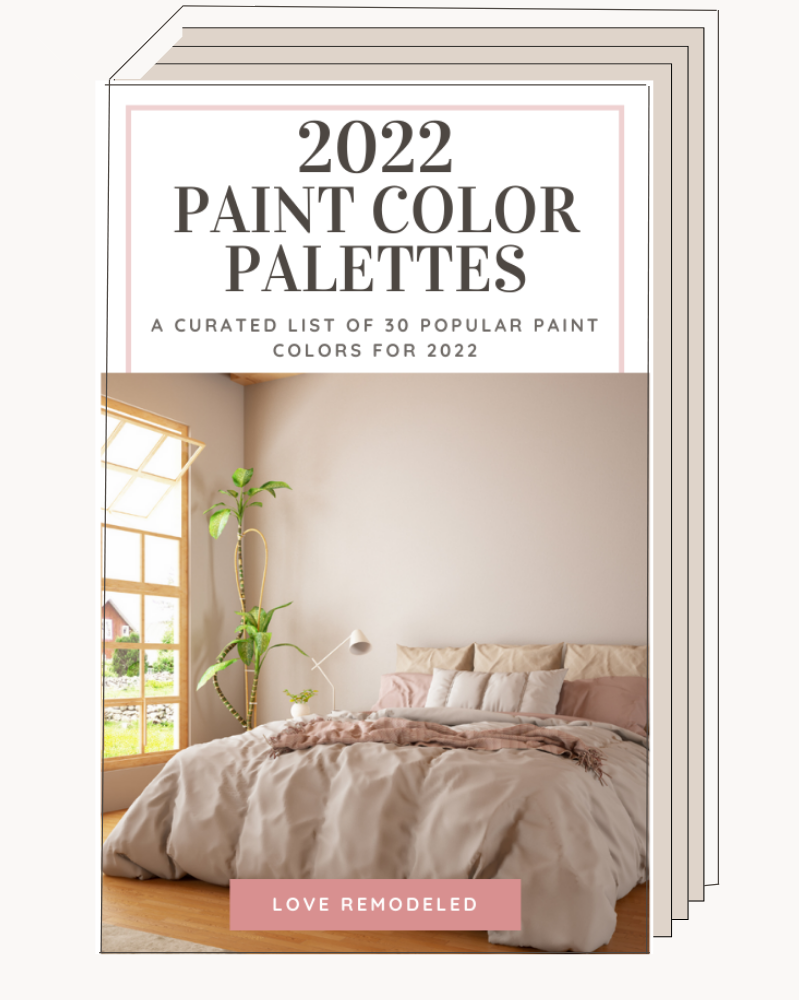 Buy Now – Over 30% off!